Have a soft spot for the versatile zucchini? We love it too!
It's a great veggie to keep meals low-carb and nutritious on keto diet. Zucchini is able to double as a chip, french fry, and even a pasta substitute. It's truly a wonder-veggie! There are countless ways to incorporate this vegetable in your diet, and these recipes are great places to start!
Today we're bringing you an array of fantastic zucchini recipes that will satiate your hunger without sky-rocketing the carb count.
1) Keto Crispy Baked Zucchini Fries
Coated with parmesan cheese, these golden-fried Zucchini Fries from Wholesome Yum are super crispy on the outside and soft and juicy on the inside. (Net Carbs = 3g)
2) Low-Carb Zucchini Fritters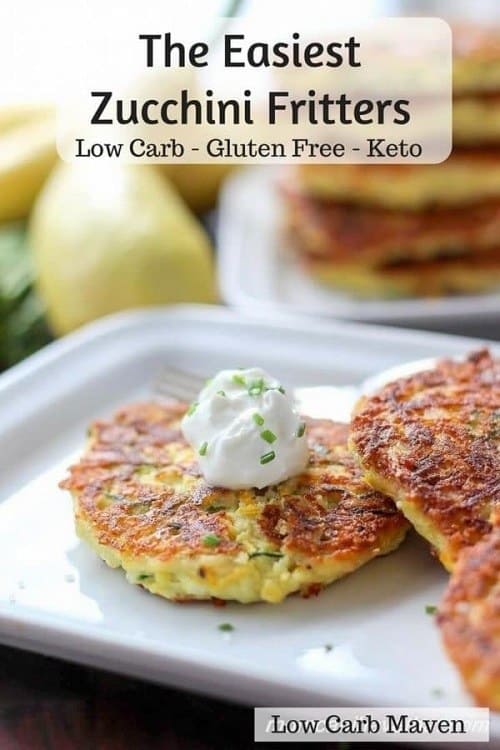 These savory Zucchini Fritters from Low Carb Maven are great as party appetizers and taste awesome with a side of sour cream or yogurt. (Net Carbs = 3g)
3) Keto Zucchini Bread with Walnuts
Perfect for serving with your cup of morning coffee, this Zucchini Bread from Ruled Me is a fantastic low-carb alternative for bread lovers. (Net Carbs = 2.6g)
4) Chicken Zucchini Enchilada
Primavera Kitchen has given this Mexican favorite a face-lift with zucchini tortillas. Smothered in keto-friendly enchilada sauce, this recipe is so amazing that you won't even want to go back to the traditional carb-loaded tortillas. Love this dish? Make sure to check out our collection of keto mexican recipes too! (Net Carbs = 6.1g)
5) Keto Zoodles with Creamy Mascarpone Sauce
This Zoodles Recipe with Creamy Mascarpone Sauce from Gnom Gnom will be your quick-fix 15-minute meal for weekdays. (Net Carbs = 4g)
6) Low-Carb Zucchini Spice Waffles
Flavored with cinnamon and vanilla extract, these Zucchini Waffles from All Day I Dream About Food can be modified savory or sweet as per your preferences. Make sure to also check out our keto pancake recipe list for more pancake inspiration! (Net Carbs = 3.75g)
7) Keto Cheesy Zucchini Gratin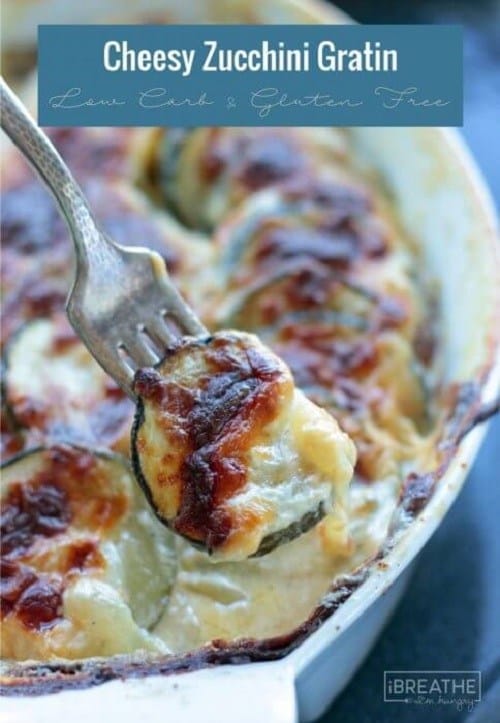 Zucchini Gratin as gorgeous and creamy as this one from I Breath I'm Hungry will be a fan favorite at family gatherings and dinners. (Net Carbs = 3g)
8) High-Fat Keto Alfredo Creamy Zucchini Noodles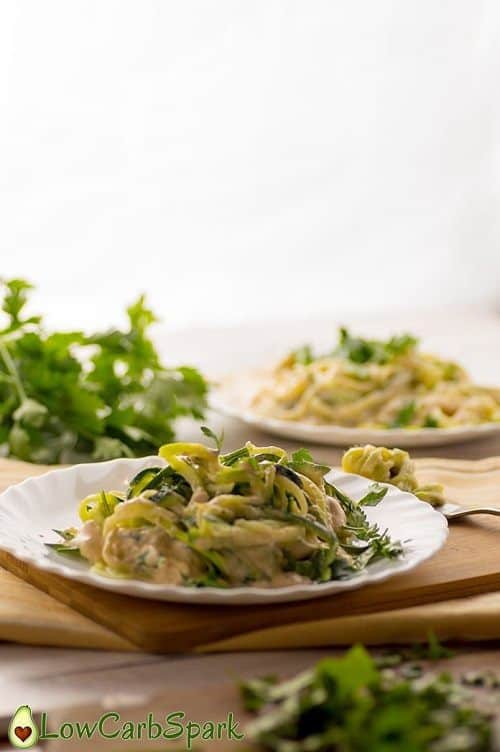 Loaded with cheddar cheese, full-fat cream, butter, and heavy cream, this Alfredo Noodles from Low Carb Spark will have you forgetting all about traditional noodles. (Net Carbs = 4g)
9) Garlic and Parmesan Keto Fried Zucchini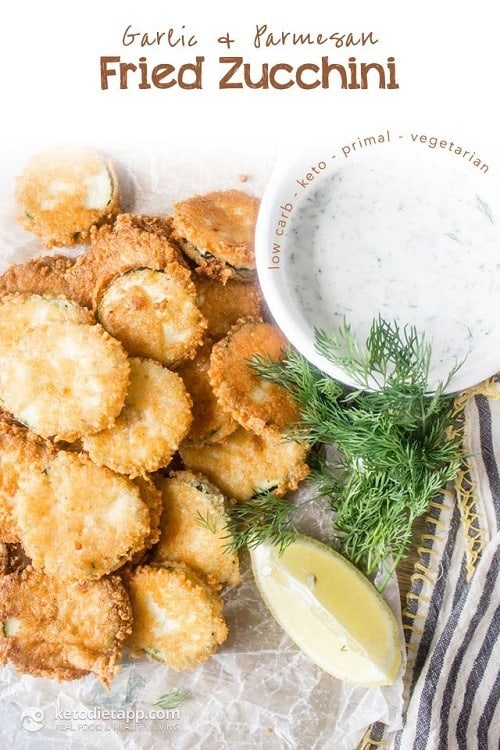 Pep-up the soggy rainy evenings with a serving of these crispy-fried cheesy Zucchini discs from Keto Diet App. (Net Carbs = 4.3g)
10) Zucchini and Bacon Slice
A delectable combo of fat-streaked bacon, cheese, and zucchini, this recipe from Ditch The Carbs is all you need to make your dinners more exciting. Plus, it's a fabulous leftover meal for your kids' lunchboxes. (Net Carbs = 3.9g)
11) Keto Zucchini Cheese Muffins
Soft and crumbly, these Zucchini Cheese Muffins from Divalicious Recipes are great for quick on-the-go snacks.
12) Keto Zucchini Bread Pancakes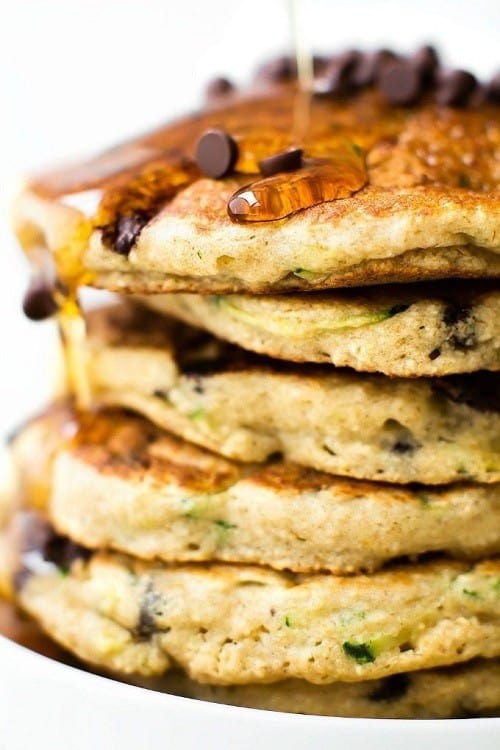 Make your morning breakfast more enjoyable with these Zucchini Pancakes from The Big Man's World, which use nut milk to keep them keto-friendly. (Net Carbs = 0.5g)
13) Low-Carb Buffalo Baked Zucchini Chips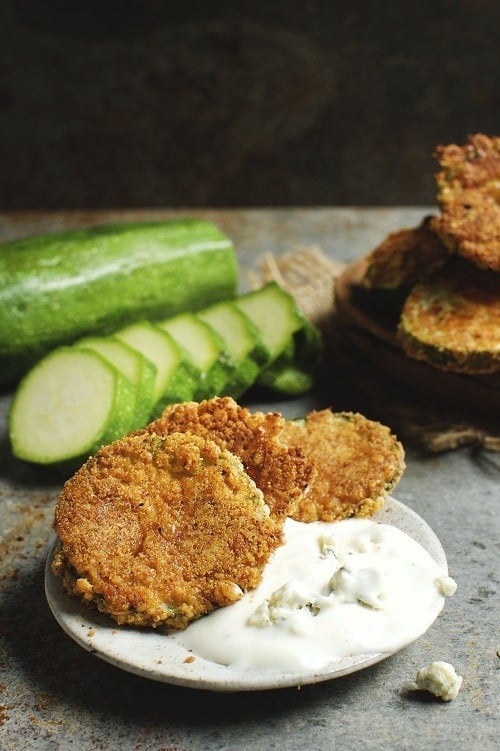 Spicy and delicious, party appetizers can't get healthier than these Buffalo Baked Zucchini Chips from Simply So Healthy. (Net Carbs = 5g)
14) Pesto Zucchini Lasagna Roll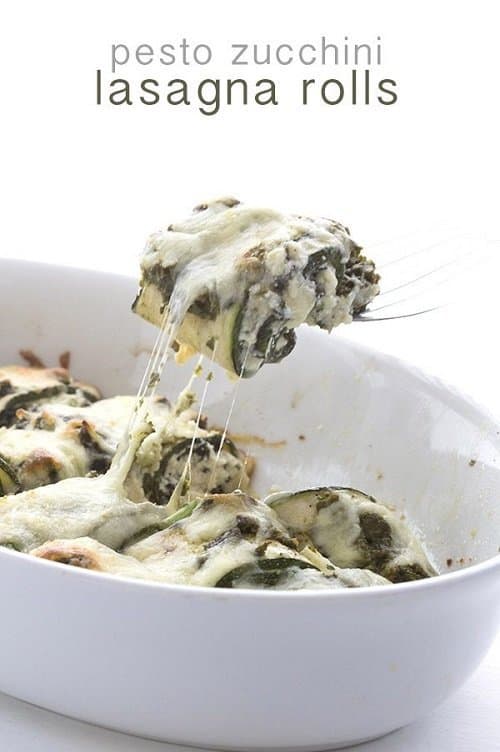 A fancy meal for whenever you crave something special, this Pesto Zucchini Lasagna Roll from All Day I Dream About Food is all about rich flavors. However, be sure to choose a keto-friendly pesto to keep this recipe compliant to your diet. (Net Carbs = 5.41g)
That brings us to an end of this list of keto-friendly zucchini recipes. Are there any zucchini recipes we missed that you need to share with the masses? Let us know in the comments!