Worried that there's no place for pancakes in the keto diet? Fear not! We have put together 12 keto compliant pancake recipes that are quick, easy, low-carb, and delicious. Everything breakfast should be!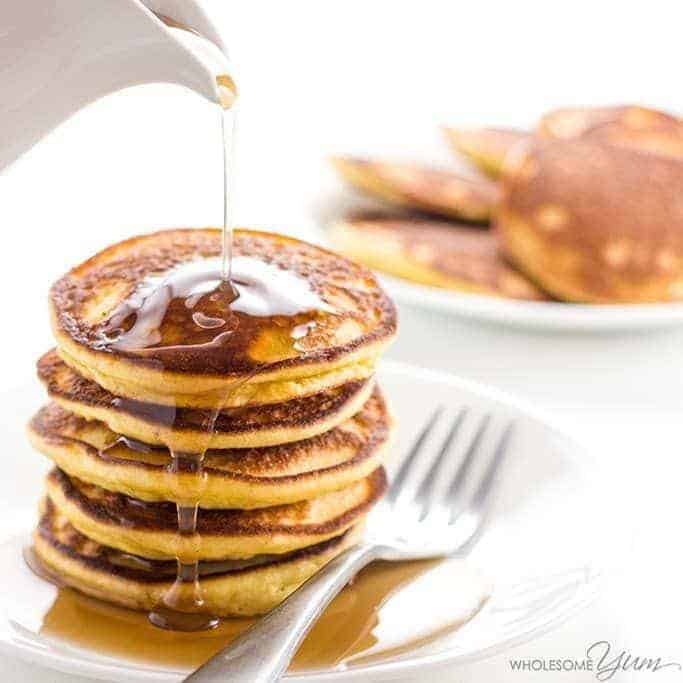 This recipe for Keto Low Carb Pancakes with Almond Flour & Coconut Flour comes from Wholesome Yum. There are 6 simple ingredients in these pancakes: almond flour, coconut flour, sweetener, egg, unsweetened almond milk, and avocado oil. These quick keto cakes are waiting for you to make them tomorrow for breakfast! (Net Carb=3g)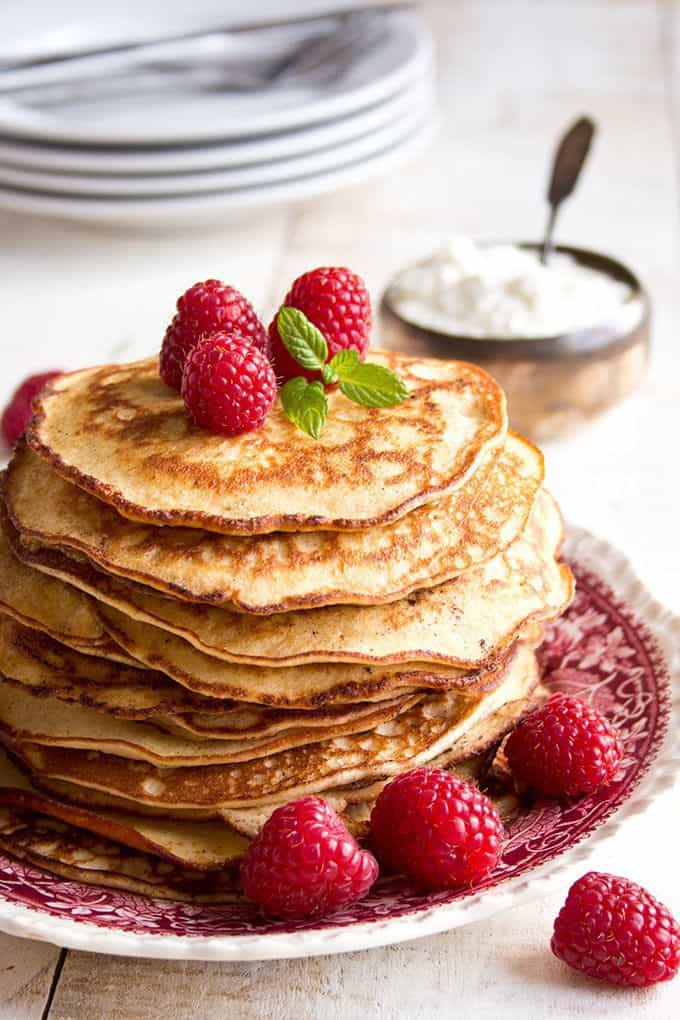 Sugar Free Londoner created this recipe for Almond Cream Cheese Pancakes. These are light and easy and sugar-free! Simply combine almond flour, full-fat cream cheese, eggs, cinnamon, sweetener, and butter for your new favorite keto pancake recipe. (Net Carbs= 2.4g)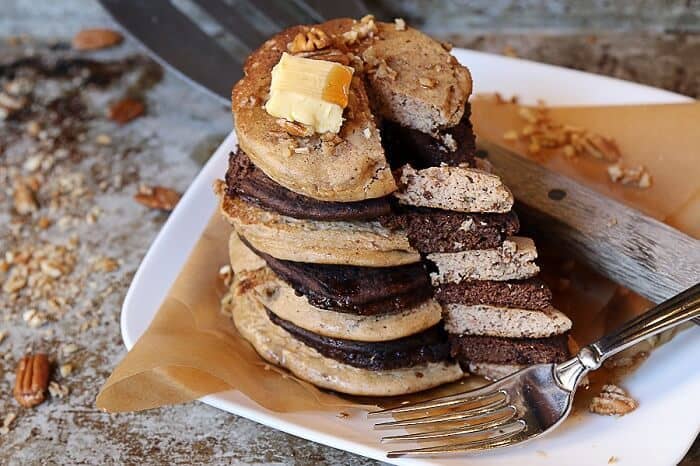 This recipe is sure to get you up in the morning! I Breathe I'm Hungry featured this recipe for Dirty Blondie Pancake Stack by ruled.me. You'll use almond flour, maple syrup, cocoa powder, and coconut milk to create this beautiful stack of maple pecan and brownie batter chocolate chunk pancakes. (Net Carbs= 5.2g)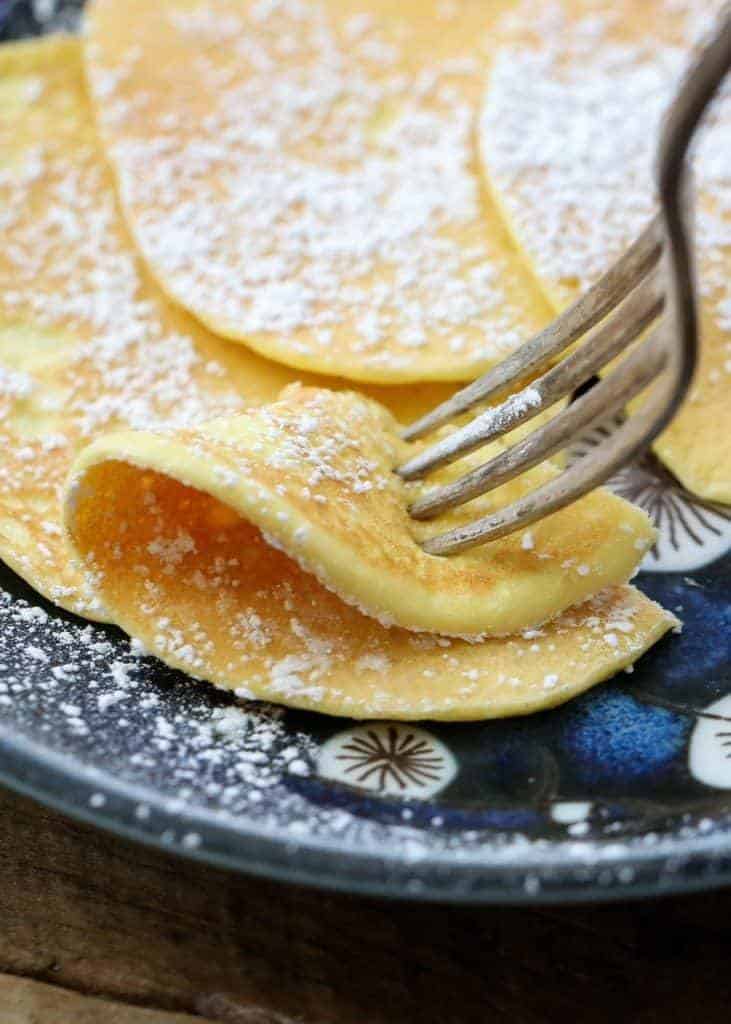 Barefeet in the Kitchen created 2-Ingredient Cream Cheese Pancakes. TWO Ingredients. A high fat, high protein combination of cream cheese and eggs make these crepe-style pancakes a keto dream. (Net Carbs= 3g)
Fluffy is the exact word I want used to describe pancakes. The Keto Cookbook made Fluffy Keto Pancakes using the perfect combination of cream cheese, egg, sweetener, vanilla, cinnamon, and maple extract. These are light and pillowy and begging to be topped with butter for your breakfast feast. (Net Carbs= 2.2g)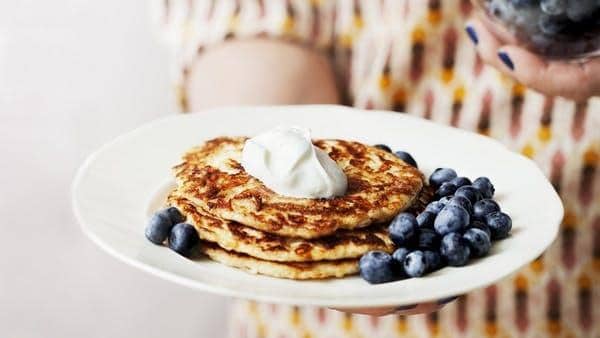 The Diet Doctor put a new twist on Keto pancakes by using cottage cheese and psyllium husk as the base. They add fresh berries and homemade whip cream for a touch of sweetness. These could even be served cold as an afternoon snack! (Net Carbs= 5g)
Raising Generation Nourished put vegetables in pancakes – can you believe that? These Paleo Butternut Squash Pancakes feature tapioca flour, coconut flour, sweetener, cinnamon, and butternut squash. Start your day off with a hearty serving of veggies!
For another squash-filled pancake, check out Savory Squash Kefir Pancakes from Wholesome Yum. These 6 ingredient pancakes contain yellow squash, egg, kefir, almond flour, baking soda, and sea salt. Top with sour cream and chives and enjoy any time of day! (Net Carbs= 6g)
This recipe for Keto Peanut Pancakes comes from ruled.me. These keto hotcakes are filled with roasted peanuts and condensed milk. Star ingredients include peanuts, almond flour, almond milk, coconut oil, and heavy whipping cream. YUM. (Net Carbs= 6.6g)
The words 'lemon ricotta' just exude sunshine. Brighten up your morning with these Lemon Ricotta Blender Pancakes from All Day I Dream About Food. Ricotta cheese, lemon juice, eggs, lemon zest, and coconut flour make up these simple, cheerful pancakes. (Net Carbs=7.3g)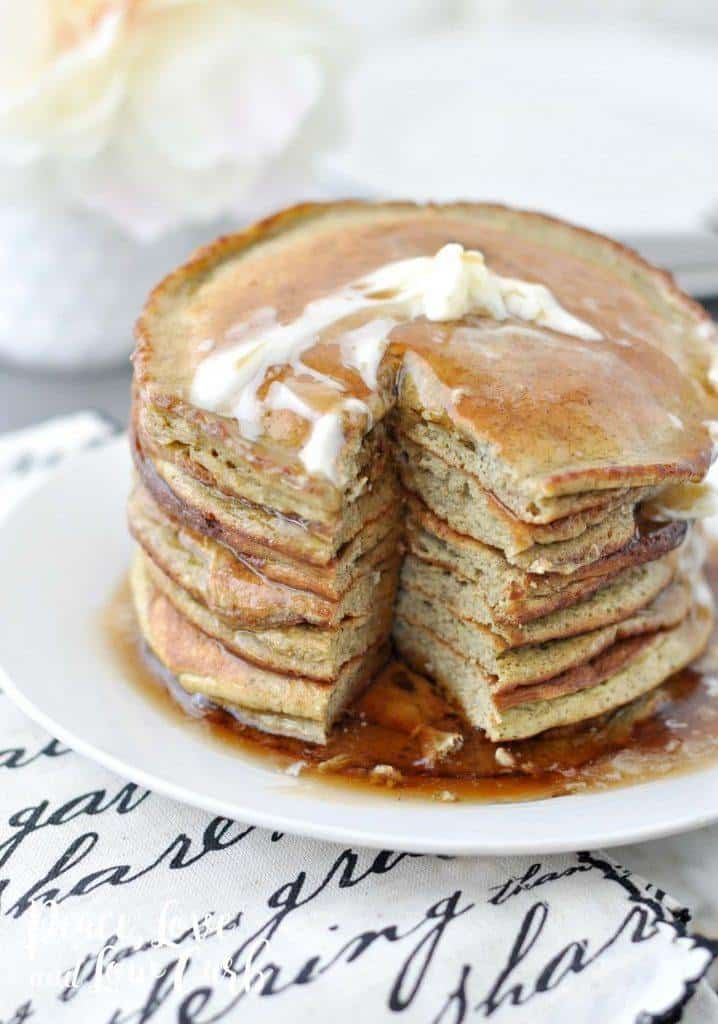 You can practically taste the dense, nutty, subtly sweet flavors of these Banana Nut Protein Pancakes just by looking at them. Peace, Love, and Low Carb creatively used banana nut protein powder, cream cheese, eggs, vanilla, and sweetener in this filling, low carb recipe. Combine your ingredients in a blender and your pancakes are ready in minutes! (Net Carbs= 0.8g)
These Fluffy, 5 Ingredient Pumpkin Pancakes from Low Carb So Simple comes are full of protein and just sweet enough. Vanilla protein, pumpkin pie spice, sweetener, eggs, and pumpkin puree mix together to form an airy, filling treat.  (Net Carbs= 1.7g)
That's a wrap for our list of keto pancakes. Which recipe is your favorite? Let us know in the comments below!