Trying to reduce the carb load from your daily diet? The spiralizer is a life changing tool and a must-have for every kitchen.
Apart from zoodles (the usual, more popular fix), you can also get creative with carrot spirals!  Crunchy and nutritious, carrots are surprisingly versatile when they team-up with your spiralizer.  Jazz up salads, noodles, burgers, soups, and more!
So let's get carrot-crazy while counting carbs too with these carrot spiralizer recipes.
1) Honey Ginger Garlic Chicken Carrot Noodle Bowls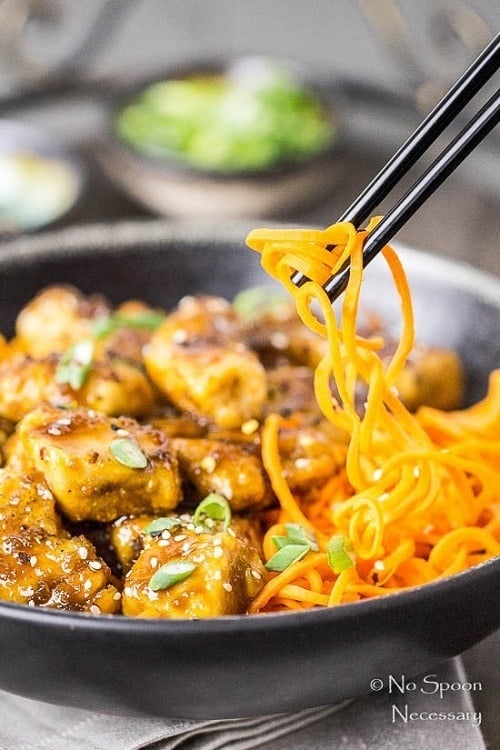 Crunchy carrot noodles add texture and bite to this delicious Noodle Bowl recipe from Today Food Club.
2) Spiralized Carrot and Cucumber Noodles Salad with Avocado Dressing
 Leelalicious brings us a Carrot and Cucumber Noodles Salad mixed with a smooth and creamy avocado dressing, for a delicious taste sensation with ingredients like fresh cilantro, garlic, and lime juice.
3) Spiralized Carrot Pasta with Ginger-Lime Peanut Sauce
Ditch those pasta carbs and dig-in to this Carrot-Pasta from The Roasted Root.   This flavorful dish, which includes the ingredients peanut butter, cashews, coconut milk, and fresh ginger is truly special.
4) Healthy Shrimp Alfredo with Carrot Noodles
If you think Alfredo pasta is enticing, try this Carrot Noodle Shrimp Alfredo from Rachel Cooks as an alternative- loaded with protein but light on carbs!
5) Roasted Spiralized Carrot, Feta And Toasted Walnut Salad
Feta cheese and walnuts give this Spiralized Carrot Salad from Alyssa And Carla a perfect balance of creaminess and crunch.
6) Quick Moroccan Spiralizer Carrot Rice
This Moroccan Spiralizer Carrot Rice from Recipe This is a great, low-carb alternative for your daily dose of energy.
Bonus: it makes a lovely presentation as a side dish for your guests.
7) Paleo Pad Thai with Carrot and Sweet Potato Noodles
Spiralized carrots make an excellent replacement for carb-loaded noodles in Pad Thai, plus the preparation is effortless! (Recipe from Nosh And Nourish).
8) Spiralized Carrot Salad with Lemon Ginger Dressing
The lemon-ginger dressing adds a kick to this vibrant Spiralized Carrot Salad from Girl In The Little Red Kitchen.
9) Asian Sesame Spiralized Carrots
Inspiralized's Asian-flavored Spiralized Carrots with toasted sesame seeds, soy sauce, and ginger make a perfect on-the-go lunch.
10) Thai Salad with Carrots and Cucumber Noodles
An array of sweet and sour ingredients including fresh cilantro, honey, dill, and lemon juice, mix with cucumbers, chick peas, green bell peppers, and carrot spirals for a refreshing salad that is unbelievably tasty and nutritious. (Recipe from Peas and Crayons)
11) Spiralized Turkey Burgers with Zucchini & Carrots
Skinny Fitalicious' Juicy Turkey Burgers with sneaky strands of carrot and zucchini are a great way to serve up some veggies to even the most finicky eaters in your family.
12) Easy Clear Onion Soup with Carrot Noodles
Beat the cold and carbs with this hearty Carrot Noodle and Onion Clear Soup from Inspiralized.
13) Creamy Carrot Noodles with Cashew Alfredo
Prepared with coconut milk and cashews, this Carrot Noodle recipe from Paleo Gluten Free is a wonderful meal to enjoy while staying Whole30 or Paleo compliant.
14) Carrot Rice Paella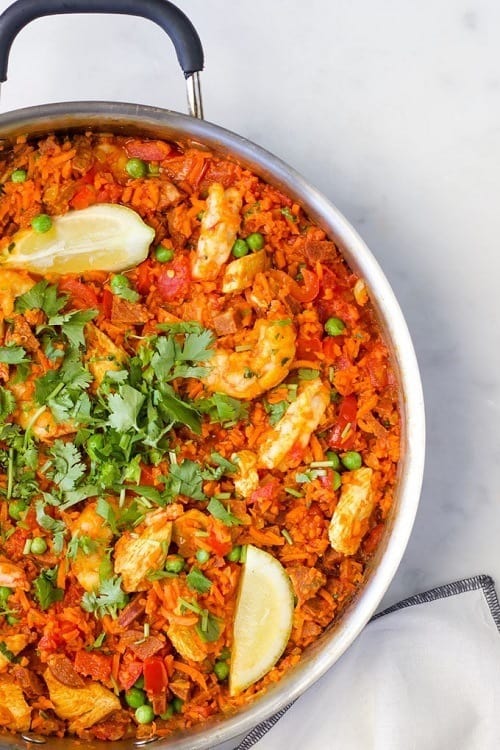 Healthy Little Foodies' Carrot Rice Paella recipe is a low-carb spin on the classic paella dish!
15) Stir-fried Carrot Noodles with Chicken
This Stir-fried Carrot Noodles with Chicken from The Woks Of Life is a fabulous option for cutting carbs and increasing veggies in your diet.
With that we come to an end of our list of 15 fabulous spiralized carrot recipes. Plan to give one a try? Tell us which ones you love in the comments below.