Shrimp is a Whole30-friendly protein from the sea that can be used to whip up some creative culinary creations during your program.
Many of these Whole30 shrimp recipes are quick and easy to make, so don't hold back and try them all!
1) Garlicky Shrimp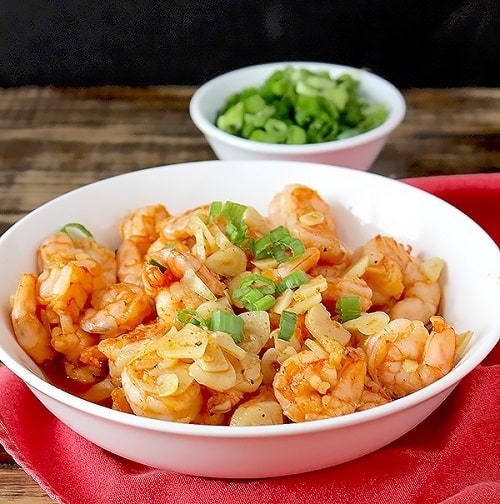 You'll love the spicy, garlicky flavor of this Shrimp recipe from Jay's Baking Me Crazy – plus it has a total prep time of only 30 minutes.
2) Easy Shrimp Caesar Salad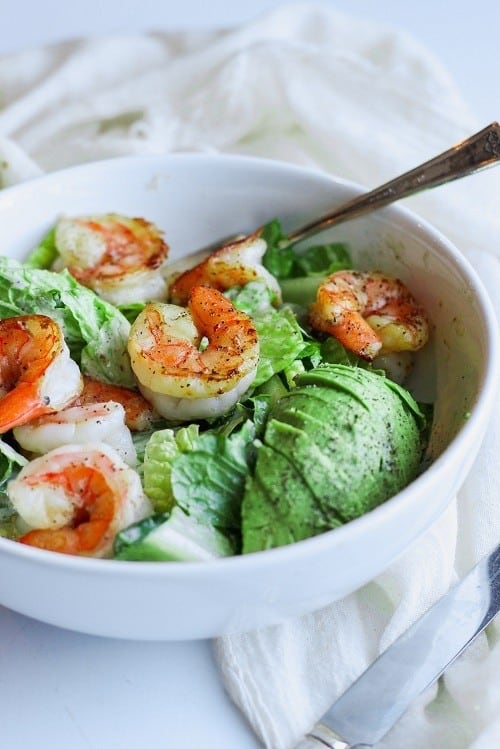 This Caesar Salad from The Wooden Skillet is Whole30-approved with Tessemae's Whole30 Caesar dressing and crispy ghee-fried shrimps. Yum!
3) Sheet Pan Shrimp and Asparagus
Coat in a marinade of lemon, garlic, paprika, and red pepper flakes and then roast for 5-6 minutes for a quick, healthy and nutritious meal – now that's called smart cooking. (Recipe from Served From Scratch).
4) Paleo Shrimp Cakes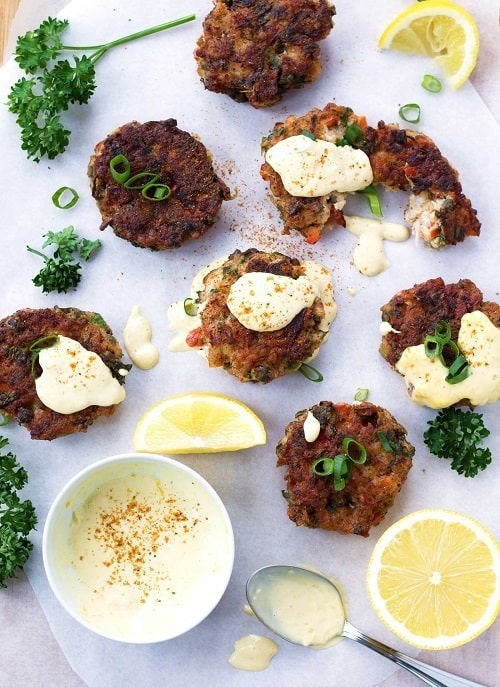 Soft and crumbly, these Shrimp Cakes from Kits Coastal use dijon mustard – just make sure you find a compliant brand for a Whole30-friendly version.
5) 10-Minute Shrimp Scampi
Lemon juice, parsley, and tomatoes imbue fresh flavors to this 10-Minute Shrimp Scampi from Everyday Eye Candy.
6) Garlic Lime Shrimp with Cauliflower Puree

This zesty and garlicky shrimp coated in a heavenly drizzle of ghee and served with creamy cauliflower puree from Paleo Paparazzi is probably the most comforting dish you can ask for.
7) One-Pan Garlic Lovers' Shrimp and Veggies
Lay out the shrimps and veggies, drizzle ghee, and bake – dinner is ready to serve under 30 minutes. (Recipe from Kit's Coastal).
8) Bang Bang Shrimp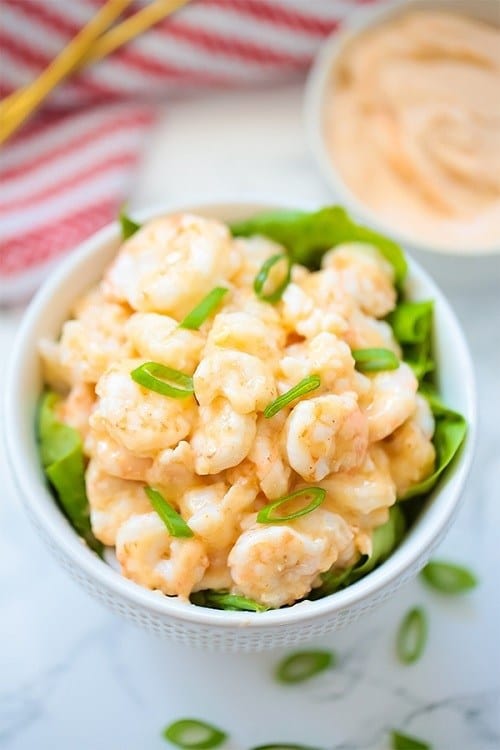 Hot and flavorful, this Bang Bang Shrimp recipe from Unbound Wellness needs just a simple toss in a Sriracha and Whole30-complaint mayo sauce.
9) Shrimp in Lemon Oil with Cauliflower Rice and Asparagus
Complete with a side of cauliflower rice and roasted asparagus, this yummy shrimp recipe from Calm Eats is a quick and nutritious 20-minute meal.
10) Paleo Shrimp and Grits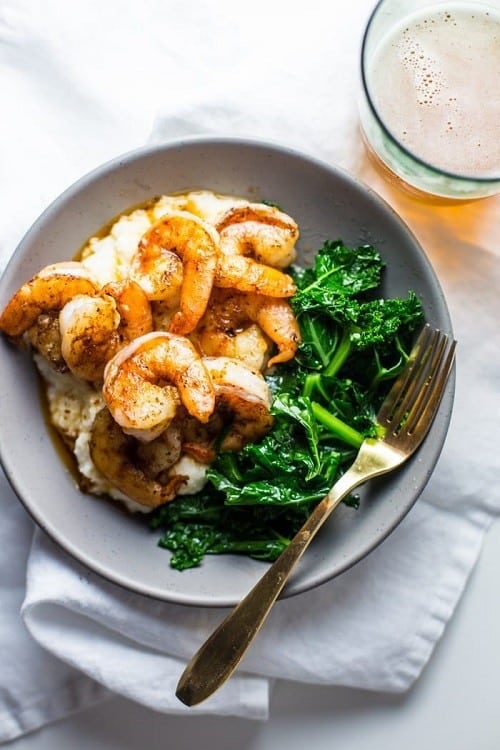 40 Aprons' Whole30-compliant Cajun Shrimp served over a bed of cauliflower grits is a fantastic option to indulge in after a tiring day.
11) One-Pan Shrimp Fajita Bowls
This Shrimp Fajita recipe from The Real Food Dietitians is one-pan goodness with lots of bell peppers, cauliflower rice, and onions.
12) Zucchini Pasta with Lemon Garlic Shrimp
No shrimp recipe list is ever complete without a shrimp pasta recipe, and this one from Downshiftology is Whole30-approved with the zucchini pasta and ghee.
13) Chili Lime Shrimp Skewers
These Chili and Lime Shrimp Skewers from Tasty Thin are so mouth-watering, you'll witness them vanish in the blink of an eye!
14) Thai Green Curry Shrimp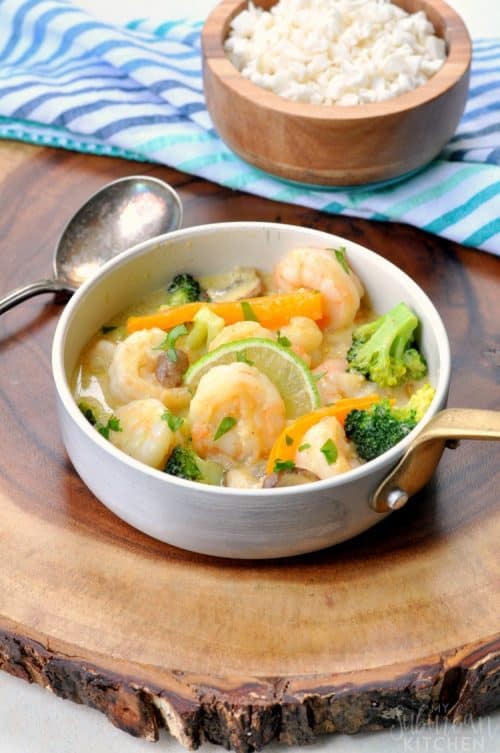 My Suburban Kitchen's Thai Green Curry Shrimp with loads of mushrooms, broccoli, and bell peppers, is a tasty dish that's perfect for summers.
15) Paleo Style Shrimp Ceviche with Artisan Tropic
Colorful and pretty from the avocado, roma tomatoes, and cilantro, this Shrimp Ceviche recipe from Define Fettle is clearly a real crowd pleaser.
16) Shrimp, Asparagus and Avocado Salad
Loaded with avocado, baby spinach, shrimp, and asparagus, this refreshing salad from Downshiftology has everything to keep you fueled for the day.
That ends our list of Whole30 shrimp recipes. Let us know which ones you loved, and make sure to share any recipes we missed in the comments!