Meats, vegetables, and fruits may be the staples of a Whole30 diet, but they get amped up when prepared with super sauces!
These Whole30 sauce recipes are just the thing to spice up your meals and keep you compliant on your program!
1) Basil Cashew Pesto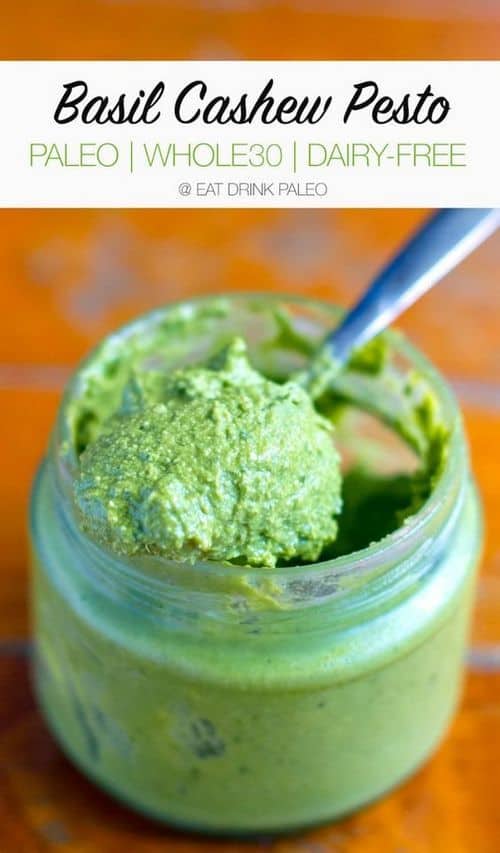 This recipe for Basil Cashew Pesto originates from Eat Drink Paleo. It requires just 6 ingredients: cashew nuts, fresh basil, olive oil, lemon juice, and garlic. With its velvety smooth consistency, this sauce is sure to impress and works great on veggie noodles!
2) Chimichurri Sauce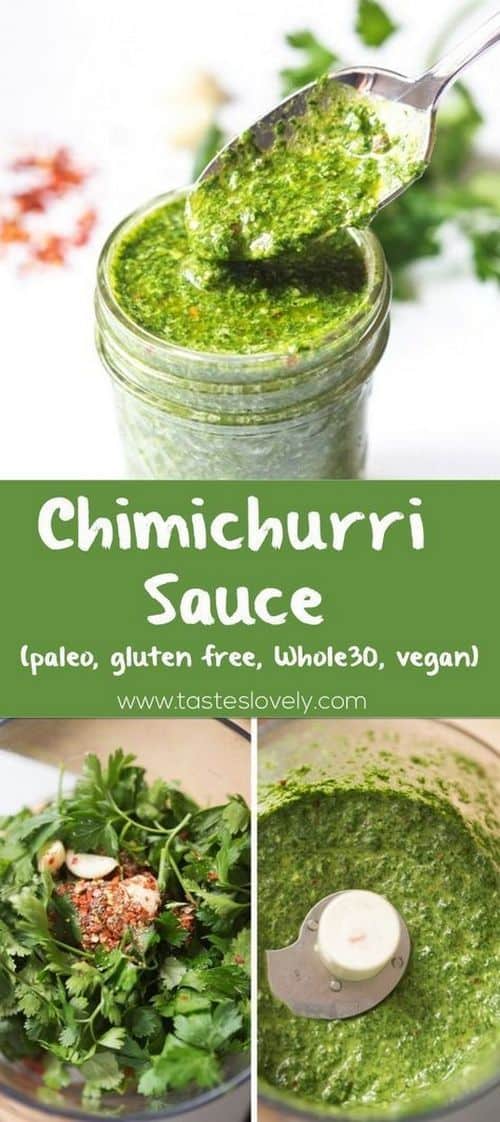 Looking for a Whole30 chimichurri sauce? Tastes Lovely created this Chimichurri Sauce recipe just for you! Mix up this tasty sauce with only parsley, cilantro, olive oil, red wine vinegar, garlic, and red pepper flakes!
3) Avocado Cilantro Lime Sauce
Unbound Wellness created an Avocado Cilantro Lime Sauce to satisfy your palate. There are just 6 ingredients of avocados, avocado oil, cilantro, lime, garlic powder, and onion powder to complete this recipe. Combine this tasty sauce with any of your simple grilled dishes and you'll have a winning meal!
4) Spicy Avocado Lime Sauce
Here's another avocado sauce from Eat The Gains! Just combine avocados, coconut milk, lime juice, cilantro, and red pepper flakes to create this amazing Spicy Avocado Lime Sauce. Make your dish look more impressive with a dash of fresh greens!
5) Roasted Poblano & Jalapeno Sauce

This Roasted Poblano & Jalapeno Sauce recipe comes from Farmstead Chic. Poblano peppers, jalapeno peppers, yellow onion, garlic, lime juice, white vinegar, and cilantro create this smoky sauce that will give you just the right kick!
6) Butter & Garlic Cream Sauce
Paleo Bailey cracked the perfect formula for a buttery and garlicky delight. This Butter & Garlic Cream Sauce uses ghee, original flavored Nutpods, garlic, tapioca flour, parsley, and basil. Even better, this creamy sauce is very versatile, working well with zucchini noodles, chicken, or vegetable dishes!
7) Oregano & Garlic Cream Sauce
The taste of this Oregano & Garlic Cream Sauce by Unbound Wellness is out of this world! It is made with coconut milk, cauliflower, white onion, coconut cream, garlic, dried oregano, coconut oil, and gelatin. This sauce is great for drizzling and dipping too!
8) Easy Homemade Mayo
Would you believe us if we told you this classic condiment was made from 4 simple Whole30 approved ingredients? Paleo Running Momma gives us this Easy Homemade Mayo recipe. All you need are eggs, lemon juice, brown mustard, and olive oil. Use this mayo to brighten up your daily meal!
9) Whole30 Ranch Dressing
Now that you know how to make your own Whole30 mayo, you can use that knowledge for this Whole30 Ranch Dressing! Cooking With Curls combines unsweetened cashew milk, apple cider vinegar, Whole30 approved mayonnaise, garlic, Italian parsley, green onions, and white wine vinegar to create this fancy dressing.
10) Dreamy Vegan Cauliflower Alfredo Sauce
Enjoy your meal with this Dreamy Vegan Cauliflower Alfredo Sauce originated from The Endless Meal. Olive oil, white onion, garlic, cauliflower, vegetable stock, nutritional yeast, lemon juice, and coconut aminos are combined to create this dreamy and creamy sauce. The best part about this recipe? It's 100% dairy free!
11) Citrus Vinaigrette with Thyme
This recipe for Citrus Vinaigrette with Thyme from The Real Food Dietitians is said to be healthier and less expensive than store-bought dressing. Lemon, orange, thyme, Whole30-compliant Dijon mustard, garlic, and avocado oil come together in this refreshing vinaigrette. Dress your favorite food with this sauce while staying faithful to the Whole30 diet!
12) 2 Ingredient Paleo Date Sauce

Looking for a quick and easy sauce? Check out this 2 Ingredient Paleo Date Sauce from Paleo Gluten Free. All you need are Medjool dates and water. Yup! You read that right. Just mix these 2 together for a decadent and delicious date sauce!
13) Whole30 Ketchup
Who knew that even your ketchup can be Whole30 A-OK?  This recipe for Whole30 Ketchup comes from Little Bits Of. Dates, tomato paste, fire roasted tomatoes, apple cider vinegar, garlic powder, cayenne powder, and smoked paprika morph into your favorite condiment. Super easy and flavorful, try it out for yourself!
14) Healthy 5-Minute BBQ Sauce

Feel like making some BBQ? Don't miss this Healthy 5-Minute BBQ Sauce recipe! Radiate Food Vibes uses 100% apple juice, tomato paste, apple cider vinegar, Whole30 compliant hot sauce, chili powder, smoked paprika, garlic powder, onion powder, and cayenne pepper.
15) Blackberry BBQ Sauce
Here is a fancier recipe for BBQ sauce! The Organic Dietitian created this Blackberry BBQ Sauce recipe using blackberries, ginger, apple cider vinegar, onion powder, garlic powder, smoked paprika, tomato paste, and coconut oil.  Your guests will love the saucy attitude this topping brings to the BBQ!
That's it for our list of Whole30 sauce recipes. Do you have any favorites to share? Add them in our comments section below.