What is Smile Direct Club?
Smile Direct Club (formerly known as Smile Care Club) is a service that allows customers to order custom-created teeth aligners that can be used to straighten teeth at a fraction of what it would cost at the dentist.
You simply send an impression mold of your teeth to Smile Direct Club, who create your custom dental aligners and mail them back to you.
After wearing the series of aligners for 4-8 months, you'll find yourself with a new smile.
Similar to Invisalign, Smile Care Club's invisible teeth aligners are subtle and difficult to notice, making them a desirable alternative to traditional braces.
How Does Smile Direct Club Work?
So how exactly does Smile Direct Club work? We'll walk you through the process.
Step 1. Take Impressions + Get Your Teeth Assessed
The first step is to get assessed, which allows Smile Care Club to evaluate if you are a good candidate for their service. Some individuals will require more extensive work that Smile Care Club can't help with, and in this case, they will not take you on as a client.
To get assessed, you'll need to get an impression of your teeth.
To get an impression of your teeth, you can have Smile Direct Club send you a kit that will allow you to make a mold of your teeth. The impression mold is then sent to Smile Direct Club labs, where they'll evaluate your teeth and l create a custom treatment plan for you and your mouth.
Alternatively, you can make an appointment for a digital teeth scan at one of Smile Care Club's SmileShops, (only available in some cities), and bypass the impression mold process.
The cost of the impression is $99. While this may seem frustrating as a first step, having an impression of your teeth is essential for Smile Direct Club to evaluate and plan your teeth treatment.
Step 2. Get Your Teeth Aligners
Next, a licensed dental professional will review and assess your teeth and create a treatment plan. Labs and dentists work together to create custom invisible aligners for you, with both upper and lower teeth aligners.
Once you receive your aligners, you'll need to wear them every day. You can remove them for meals or beverages other than cool water.
Smile Direct Club also send you a pack of 5 premium teeth whitening treatments as a little added bonus.
Step 3. Switch Out Aligners & Document Progress
You'll switch out your teeth aligners periodically, as directed through your teeth treatment plan. You'll also need to submit photos online so that Smile Care Club can keep an eye on your progress and make sure that your teeth are moving as planned.
Step 4. Your Smile is Complete!
Within 4-8 months (depending on your teeth alignment needs), you'll have your new smile!
Step 5. Get Your Retainer to Maintain That Smile
If you've ever gotten braces as a kid, you know how important retainers are. Many a child has ruined thousands of dollars in expensive dental work after abandoning their retainers.
Retainers prevent any shifting or movement that may occur once your new smile is in place. We highly recommend them, as they are essential for putting all that time, effort, and money on your smile to good use. If you don't have a retainer, your teeth can (and most likely will) shift, ruining all your hard work.
Smile Direct Club doesn't include retainers – they cost an additional $99 after your treatment, but we think they are well worth it.
Smile Direct Club: Pros and Cons
Trying to decide if Smile Direct Club is right for you? Here is the breakdown of the pros vs. cons of Smile Direct Club.
Advantages:
Cheaper Than The Dentist. Since you're cutting out the dentist appointments, co-pays, and inflated treatment costs, Smile Care Club can give you the dental results you're looking for at a significantly lesser cost than visiting a traditional dentist.
Monthly Payment Option. Smile Care Club offers a monthly payment option, allowing you to spread your payments across time, if you desire.
Attractive. The invisible aligners are very thin and light, with most people having no idea that you're wearing them at all. This allows you to show your smile with pride while your teeth are being adjusted and straightened.
Licensed Professionals. Smile Direct Club works with remote licensed dental professionals to create your treatment plan and oversee your progress. This allows them to save costs and pass on savings to the customer, while still maintaining a high quality of care.
No Office Visits Needed. Usually with teeth straightening, many annoying visits to the dentist's office are required. With Smile Care Club, you don't need in-office visits – you can do it all from home and at your convenience.
Risk Free. Smile Care Club evaluates your teeth and provides a 3D custom treatment plan. If they determine that their invisible aligners won't work for your teeth, your evaluation is free and you get the full refund.
Bonus: If you pay for your invisible signers with one single payment, you'll also get a free teeth whitening gel to brighten your teeth.
Disadvantages:
Customer Service is Questionable. While reviews vary, there have been some complaints that customer service is not always very attentive.
No Guarantee of Outcome. Smile Direct Club doesn't take responsibility for the outcome of the treatment. The responsibility is on you to stick to the treatment, and while keeping to the plan should provide positive outcomes, there is no promise of 100% satisfaction.
No Retention Assistance. With traditional orthodontists, you'll receive regular check ups as part of your retention plan, making sure that you are staying on track. You won't have this added help with Smile Direct Club.
Problems If Things Go Wrong. Using Smile Direct Club poses some other potential issues if plans go awry. For example, imagine that you lose one of your trays. You would need to re-order a tray from Smile Direct Club, which could take some time. At a traditional orthodontist's office, they could provide you with an emergency piece to wear until a formal tray could be made. Going without any kind of tray or mouth piece for several days could threaten your entire treatment plan and derail your progress. Traditional orthodontists are also well equipped to identify any issues and change course if things are going wrong. While Smile Direct Club checks in to make sure you are progressing, they won't be able to provide the same kind of attention and care that a traditional orthodontist can.
No Relationship With Doctor. While this won't matter to everyone, it's worth noting that some individuals feel more comfortable in the hands of a professional, trusted orthodontist with which they can form a relationship. You'll have very minimal communication with Smile Direct Club's team.
Smile Direct Club Reviews: Does It Work?
Of course the big question everyone wants to know is – does Smile Care Club work?
Our Take: Smile Care Club does seem to be a solid option for minor relapse or non-major tooth movement. However, more extensive teeth work will likely need to be done with the help of an in-office orthodontist. It's worth remembering that tooth movement can affect many areas of your oral health, and there is always some risk taking this process into your own hands.
The good news is that there is really no risk in at least getting diagnosed by Smile Direct Club. You can get assessed by Smile Direct Club and at least see what they have to say before you commit to treatment (this service is $99 if you are eligible for treatment, but is absolutely free if they decide you aren't a good candidate).
Smile Care Club only takes on cases that they believe they can successfully treat. Real doctors are evaluating your photos, medical records, and impressions to ensure that your needs will be compatible with virtual check-ins. If they find that they can't help you and you'll need to seek dental help elsewhere, they'll refund the evaluation fee.
To be completely safe, it's recommended that you meet with a trusted local orthodontist beforehand and get their opinion. If it seems that the dental work you need done is a matter of simple alignment, than Smile Care Club may be the way to go. However, extensive work is still best done in-person.
Smile Direct Club Reviews: What Customers Say
For what I paid (a little over $1000), the lack of communication and consistency was still worth it. It was within my price range, and it fixed the problems i would have had to pay over $6000 for from Invisalign.

-Real Self Review from User HansofEd
I am so happy that I found Smile Care Club as an affordable option to straighten my teeth. I wore braces as a teenager but ditched my retainer as soon as I could. Every time I smiled in the mirror I regretted that decision. I never thought their would be a solution that fit my budget. I'm already on my 5th set of aligners and seeing a huge improvement, the customer service is outstanding, and being able to email with my patient care specialist fits my lifestyle well. Highly recommend!!

– Real Self User Reeves_Smith
My experience with SmileCareClub has been amazing. I have completed all 5 sets of my aligners, top and bottom, and I am now wearing the retainer. The results were incredible. I had braces earlier in life, but never wore my retainer. SmileCareClub allowed me to fix what had changed and for a reasonable price! I just needed a few minor corrections in my front teeth, upper and lower, and that is exactly what the aligners corrected.

The customer service has been incredible, and the company has gone out of their way to make sure I am pleased with my experience and know everything I need to know about the process. They take feedback very seriously and go above and beyond to make sure you, as a customer, have the best possible care. SmileCareClub is very professional and knows what they are doing! Highly recommended.
– Real Self User Jodieschram
"What an easy, convenient, and affordable way for straighter teeth! Highly recommended" – Joanna, Virginia [Smile Direct Website]
"I am very satisfied with my results, feeling confident, and no longer hiding my smile" – Melissa, Florida [Smile Direct Website]
Want to check out more reviews? The folks over at Smile Prep have collected dozens of real customer reviews you can browse to get a better sense of what people think after using Smile Direct Club.
Smile Care Club Before and After Results
Smile Care Club has shown some pretty good results with before and after progress. It's important to keep in mind that these results come from the official Smile Direct Club website, so they aren't completely objective.
Still, these photos show some impressive progress!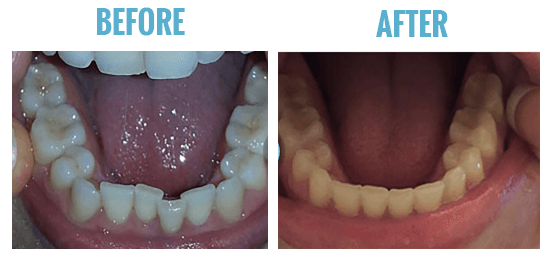 Smile Care Club: Cost & Deals
Here's how pricing works at Smile Direct Club:
Assessment: $95. Your assessment costs $95, but is 100% refundable if it turns out that you are not eligible for treatment.
Treatment: $1,850. Your treatment costs $1,850 (or $2,280 if you choose to do the installment plan at $95/month for 24 months).
Maintenance: $99. You'll also pay a $99 maintenance fee for the custom made invisible retainer that you'll continue to wear at night to keep your teeth in position. This is standard for any teeth moving, as a nightly retainer is always needed to ensure teeth don't shift back.
This results in a total cost of about $2,044 – significantly cheaper than the same process at the dentist or more expensive services like Invisalign.

Can My Insurance Cover or Discount Smile Direct Club?
Good news – in some cases, your existing dental insurance may be able to help cover the cost of your Smile Direct Club treatment.
Smile Direct Club doesn't take payment directly from your insurance company – you would need to purchase the aligners and get reimbursed afterward. Smile Direct Club can walk you through the process and provide the necessary forms.
In addition, Smile Direct Club also qualified for FSA and HSA, which can help further offset the cost of your teeth aligners.
What Are Smile Direct Aligners Made Of?
Aligners are crafted from comfortable BPA-free plastic, similar to materials used in Invisalign braces and other dental guards.
Is Smile Direct Club For You?
If you're in need of teeth straightening that isn't too extensive, Smile Direct Club could be a good choice for you. You may want to try getting a Smile Direct Club assessment, reviewing the treatment plan, and then visiting an orthodontist to get their opinion.
When you sign up with Smile Direct Club through Life Health HQ, you can get your impression kit for 50% off – just use this link with code LIFEHEALTHHQ!
Have you used Smile Direct Club? Tell us about your experience in the comments!
Disclaimer: The information listed here is not intended to be dental advice. Always seek out the advice of a dental professional before moving forward with treatment.