Last week I was luck enough to have this sweet little box turn up at my doorstep! Introducing Orange Glad.
What is Orange Glad?
Orange Glad is a monthly snack subscription box service specializing in sweets (my favorite category of food stuffs).
For $15/ month, Orange Glad will ship you a tasty selection of gourmet treats from across the country. The Orange Glad sweet box is a great way to try a variety of fun and unusual desserts you might never get a chance to sample otherwise!
Check out my Orange Glad box and see what I got to try:
I have to say, I absolutely devoured all these treats.
The chocolate chip shortbread biscuits were melt-in-your-mouth delicious.
I also went crazy over the Zesty hot cocoa cookies – they had a interesting texture that felt like half-biscotti, half-cookie. They also had a really nice kick of cayenne pepper!
The almond "Toffee Talk" made a great snack with my 2nd round of morning coffee. Often I find toffee to be too hard for my liking, but this version was perfect – firm enough to take a nice bite out of, but not so hard that I thought I might break my teeth. When I shared this toffee with my friends, they were blown away.
The Fairytale Brownie was quite possible the best brownie I've ever had – it tasted great and had the perfect texture, with a bit of firmness on the outside while staying soft, moist, and gushy on the inside.
The most unusual treats were the Quin Dreams Come Chew. I have to admit, I really didn't know what to expect, as I had never had any candy like the Dreams Come Chew before, but I was pleasantly surprised. They are basically fruity taffy, but I definitely prefer these to salt water taffy, which I'm usually not a big fan of.
Orange Glad Pamphlet
Orange Glad also has a great little pamphlet that shows you where your various goodies came from. It's pretty fun to see where these treats are made across the country.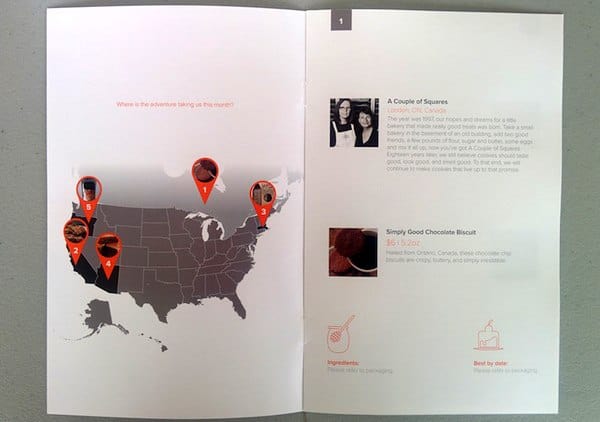 In addition to their monthly sweet box, Orange Glad also has a large marketplace of special sweets you can order as gifts for friends, or just for yourself. The have some really unique options like Bourbon Marshmallows and Amsterdam Waffles (my favorite) – yum!
As a tremendous sweet monster, I loved the Orange Glad sweet box subscription – I think if you give it a try, you'll love it too!
Use Orange Glad coupon code SHOPSWEET for 15% off your first order!