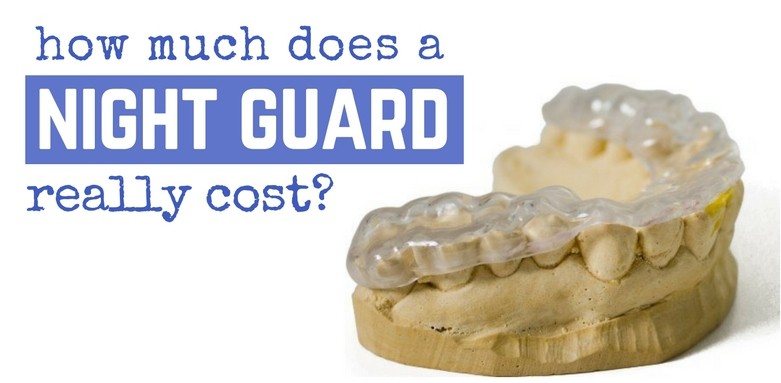 Night guards can be costly to obtain, but for many individuals, they are essential to good oral health.
When ordering through a dentist's office, a custom night guard cost ranges anywhere from $300 – $700 depending on the dentist and price of dental care in your region.
This is a tremendous cost for many. To make matters worse, dental insurance rarely covers the cost of custom night guards, which means you'll have to pay out of pocket to protect your teeth.
Even with the high cost of a custom night guard, they're usually well worth the money. Night guards are designed to stop you from clenching or grinding your teeth during the night. If left untreated, grinding can cause serious oral issues, resulting in:
Cracks and fractures in teeth
Root canals
Crowns & bridges
Dental issues like these will require extensive treatment that will far surpass the cost of a night guard, making even a very expensive mouth guard well worth the money.
Good News – There Are More Affordable Options
While there's no doubt that dental night guards are well worth the price to protect your pearly whites, the good news is that you don't have to pay the exorbitant prices found at dental offices.
There are actually online services that built custom night guards directly for the customer, cutting out the dentist office middle man and saving costs.
In fact, some of these private custom night guard services are 70-90% less than dentist office prices, ranging from only $80 – $150 dollars.
It may seem strange that you can receive a custom mouth guard without the aid of a dentist, but it's quite a simple process. While there are several different private night guard services (listed below), they all follow a similar process:
Step 1. Order your custom night guard package online.
Step 2. You'll receive a kit in the mail that allows you to take an impression mold of your teeth.
Step 3. You send the mold back to the night guard lab, in pre-paid packaging provided,
Step 4. The dental lab creates your custom night guard with the help of your mold and sends you the final product.
Not only is this process simple and easy, but most of these services are very trustworthy. In many cases, the dental labs you order your night guard from online are the very same dental labs that dentists themselves use to order night guards for their patents.
This means you are getting the same quality and expertise, but at a fraction of the dental office cost.
What To Consider Before Ordering
Ordering custom night guards from a private dental lab is a smart cost-saving alternative to paying the big bucks at a dentist's office. However, before you place an order, there are a few things you'll want to consider:
What thickness do you need? Mouth guards come in varying degrees of thickness and hardness based on the severity of your grinding. If you're not sure, you may want to consider a consultation with your own dentist to gather information about what thickness you'll need your guard to be.
Top or bottom guard? Most sellers give you the option to order a guard for your top or bottom teeth. Choose based on what design is more comfortable and natural for you. If you are unsure, it's worth noting that most individuals choose a guard that fits over their top teeth.
Where To Order Discounted Custom Night Guards
These private night guard sellers have fantastic track records and are great options for ordering custom dental guards that rival the kind you'd order from a professional dentist.
Pro Teeth Guard is a professional dental lab that specialized in custom night guards, based out of California.
In addition to private orders, Pro Teeth Guard also makes dental night guards for dentist offices, so you are getting the exact same high-quality guards, made with FDA-approved materials, that professional dentists order for their patients.
Pro Teeth Guard offers several different night guard options, ranging in different thicknesses depending on the severity of your grinding.
Additional features include:
110% Money Back Guarantee. If you're not happy with your night guard, Pro Teeth Guard will reimburse you your amount paid, and then some!
Authentic Dental Professionals. Pro Teeth Guard has 10+ years experience creating night guards, dentures, and crowns for dentists, putting your pearly whites in good hands.
Price: Pro Teeth Guard night guards cost anywhere from $140 – $190.
Customer Testimonial:
After several quotes from Dentist's around my area, they all wanted to charge a ridiculous amount of money ($385-$500) to make a custom night guard. I thought, there must be a more economical way. I really needed a new night guard, but could not afford what the Dentist charges. While browsing the internet I found the website to Pro Teeth Guard. Okay, I must admit, that in the beginning I was a skeptic and it took me about a month to go ahead with this plan. I ordered the Hybrid guard and the first impression didn't come out right, so the company sent another kit (free of charge). I am completely satisfied with the way it fits in my mouth. And Customer Service will help you with any of your needs. This is an awesome product, I only wish that I new about it sooner. – Alison, August  2016
TeethNightGuard.com (part of Sparkling White Smiles) is another trusted private dental lab with 8 years of experience producing high-quality, dentist-grade night guards to help prevent teeth grinding and TMJ.
TeethNightGuard.com offers several types of guards, customized based on the severity of your teeth grinding (light, moderate, or severe). In addition to night guards, they also offer ultra-thin dental guards for day and night use, as well as teeth whitening services.
Other benefits include:
30 Day Guarantee. Orders come with a 30-day guarantee for customers.
Quality Materials. Made in the USA with FDA-approved materials.
Extra Order Options. You get a nice range of features you can add on to your order, such as increased thickness for added durability or the option to order a duplicate guard at a significant discount (which is great if you tend to lose mouth guards).
Price: Most night guards start at $100, with extra add-ons and increasing thickness at additional cost.
While largely offering the same type of night guards as Pro Teeth Guard, it's worth noting that this provider's checkout process can be somewhat confusing and daunting. However, if you don't mind going through the range of customizable addition and add-ons, it's fine!
Customer Testimonial:
I've had different bit guards for the past 15 years. These are by far the most comfortable and best fitting. Who knew you didn't have to pay a dentist $600 for a great bite guard. I do now. And you're welcome to quote me You are one of the very best finds! Thanks!! 
– Adam Mishcon, March 2016
J&S Dental Lab is another private dental lab offering custom night guards. As with other sellers, they offer different thicknesses as well as top and bottom fitting options.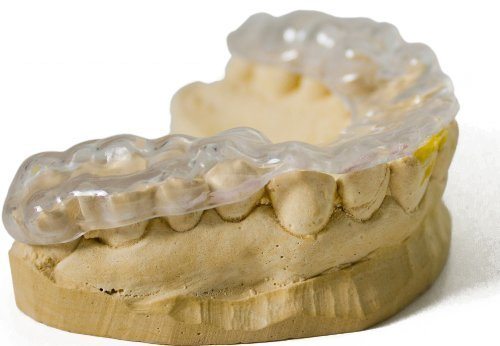 The major differentiator for J&S Dental Lab is that you can actually order with them via Amazon, which provides some level of convenience.
Major features of J&S Dental Lab include:
Money Back Guarantee. J&S Dental offers a "No Questions Asked Money-Back Guarantee." If you aren't satisfied, you'll get your money back, no questions asked.
Free Adjustments. J&S offers free dental guard adjustments
J&S Dental Lab mouth guards come with fantastic ratings and ecstatically happy customers. A professional dentist actually used J&S Dental Lab when ordering his own custom night guard since he couldn't order one through his own office – he loved the night guard he received, which is pretty high praise coming from a dentist!
Price: J&S Dental Lab night guards cost around $130.
All three of the services discussed here are great options for ordering a cost-effective, high-quality custom night guard.
Really there is very little difference between these services, so pick whichever appeals to you, and chance are you'll walk away with a great night guard and can rely on for many years to come!
Have you ever used one of the custom night guard services discussed here? Share your experience in the comments!