Look who showed up at my door today – Love With Food!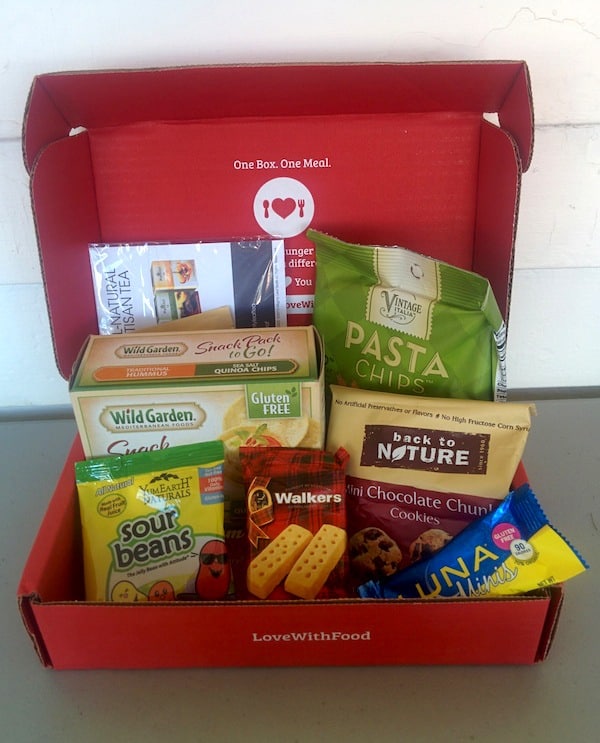 Love With Food is a monthly food subscription box dishing up all-natural, organic snacks with:
no trans fats
no hydrogenated oils
no artificial flavors/colors
no high-fructose corn syrup
Love With Food also donates a meal to a U.S. food bank for every snack box purchased, so you can feel food while you snack.
Love With Food Price: Love With Food boxes cost $10/box for 8 snacks (+ one free meal to a hungry person).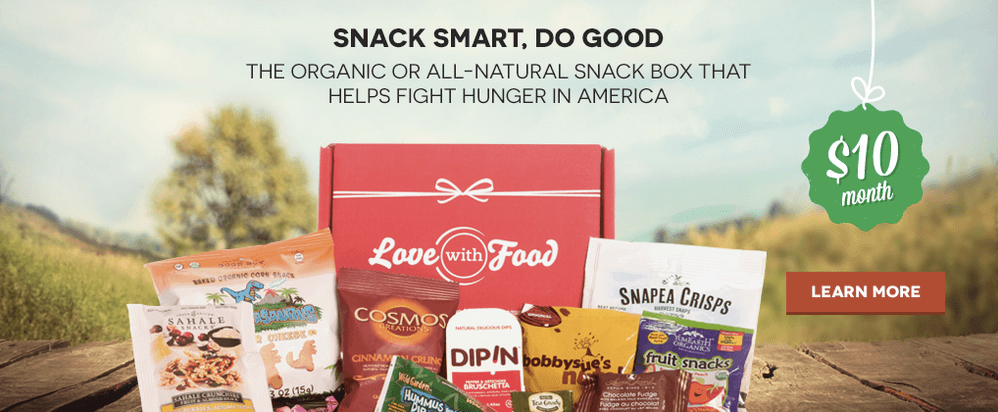 Check out my Love With Food unboxing video –
Here's what I found in my Love With Food box:
Shortbread Cookies from Walkers: Delicious Scottish shortbread cookies that pair perfectly with a nice cup of tea.
Garlic Olive Oil Pasta Chips from Vintage Italia: These pasta chips are 60% less fat than normal chips, but they still taste great!
Green Tea Tropical from Mighty Leaf Tea: A tasty packet of green tea, said to be good for the body and the mind.
Sour Beans from YumEarth: These sour jellybeans are made with real fruit extracts and are packed with vitamin C.
Lemon Zest Mini from Luna: This mini Luna bar is a great healthy snack that is loaded with calcium, folic acid, and protein! It's a tasty lemon bar you can love.
Mini Chocolate Chunk Cookies from Back to Nature: These cookies are Rainforest Alliance certified and are perfect for packing with a lunch.
Wild Garden Hummus Snack Pack: This awesome little snack pack is perfect for when you need an energy boost in the office. It contains a squeezable hummus pack and a mini bag of quinoa chips.
I really enjoyed all these snacks – they all tasted great, and introduced me snacks I had never had before, like the pasta chips.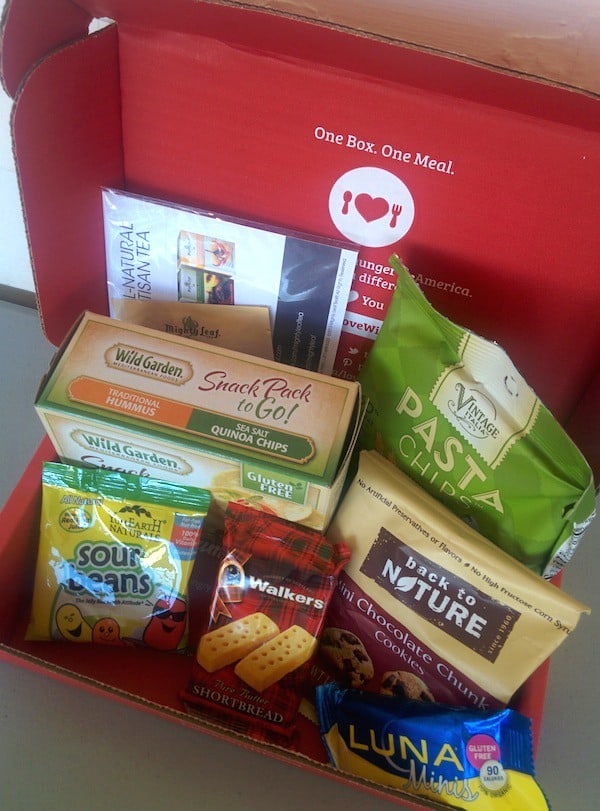 I ordered the Tasting Box, which includes 8 individual serving snacks. If you want more healthy snackage, also check out the Deluxe Box (16-20 snacks) or the Gluten Free Box (8-12 snacks).
Also, don't forget, you can get your first LoveWithFood box for FREE when you use this link. You'll just have to pay $2 for shipping.