Craving some comforting soup on keto? Check out our tasty collection of 15 keto soup recipes that will surely satisfy your soupy desires!
1) Broccoli Cheddar Soup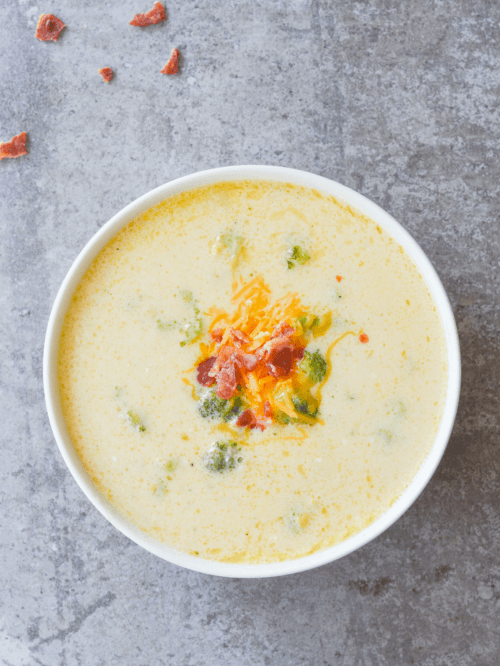 This Broccoli Cheddar Keto Soup from HeyKetoMama has a slightly thinner consistency to it, but don't let that put you off, it really is just as delicious as it looks.
The main ingredients for this recipe are cream cheese, heavy cream, bacon, broccoli, and cheddar. Although it might not be as thick each portion has around 24g of fat, so it will definitely fill you up.
2) Creamy Garlic Chicken Soup
This Creamy Garlic Chicken Soup from Ketogasm is just the thing if you're a garlic lover. The key ingredients for this recipe are shredded chicken, cream cheese, heavy cream, and garlic seasoning.
3) Cabbage Soup
Cabbage soup has a reputation for being dull, but this keto-friendly Cabbage Soup recipe from Ketogasm is far from boring. The key ingredients include ground beef, cabbage head, diced tomatoes, and green chilies.
Delivering a perfect balance of protein and fat, this simplistic soup is ideal for those new to the keto diet.
4) Bacon Cheeseburger Soup
Cheeseburgers are many people's weak spot when following a diet, but for those of you with that cheeseburger itch, we've found this delicious Keto Bacon Cheeseburger Soup recipe from RuledMe that should satisfy those cheesy cravings. Primary ingredients include bacon, grated cheddar, ground beef, pickle, and cream cheese.
5) French Onion Soup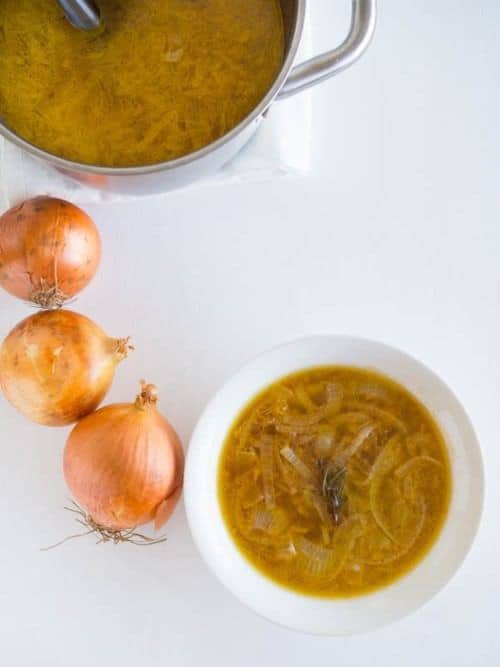 Although French onion soup is a rather simple recipe, it can be tricky getting the flavor right. Following this French Onion Soup recipe from FatForWeightLoss is easy since the 5-ingredient recipe uses just butter, beef stock, Natvia, olive oil, and brown onions.
Aside from the onions, this keto soup mainly gets it flavor from the bone broth, which is also a brilliant source of nutrients.
6) Jalapeno Popper Chicken Soup
This Jalapeno Popper Chicken Soup Recipe from KetoVale offers a slightly spicy alternative to the classic chicken soup. With the option of adding in some crispy chicken skin, this recipe is a great way to add a bit of texture to your dish. Some of the main ingredients include chicken thighs, chicken broth, cream cheese, and jalapenos.
7) Avocado Soup
 
Avocados are a very popular summer ingredient but seeing them included in a soup is not very common. Key ingredients for this Creamy Avocado Soup Recipe from TryKetoWithMe are chicken broth, onion, coconut oil, and avocados. This keto soup contains a lot of healthy fats derived from the avocados, great for filling up on healthy fatty goodness.
8) Italian Sausage Kale Soup
 
Here we have a creative Italian Sausage And Kale Soup recipe sourced from TwoSleevers. Created using ingredients that work very well together but are not often thought about, this soup is great for producing those highly filling naturally occurring fats.
The primary ingredients for this soup include cauliflower, kale, Italian sausage, and heavy whipping cream. This Italian styled soup is great for freezing and increases with even more flavor over time.
9) Loaded Cauliflower Soup
 
A simplistic yet tasty soup here that you could potentially make within minutes with the use of an instant pot. This creamy Loaded Cauliflower Keto Soup was discovered on AllDayIDreamAboutFood.
The main ingredients used are bacon, cauliflower, celery, Monterey jack or cheddar, and sour cream. This soup has a subtle smokiness to it as all the vegetables are cooked in the bacon fat.
10) Pumpkin And Coconut Soup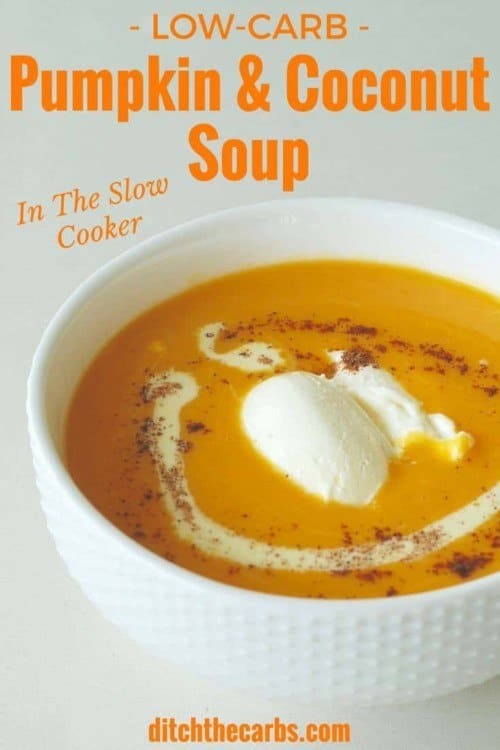 This keto soup is a great recipe to try out with your leftover pumpkins. Another ideal option for a slow cooker, this recipe is very adaptable to suit your dietary needs. Find the full Pumpkin And Coconut recipe on DitchTheCarbs, there's even a video tutorial you can watch.
The main ingredients include pumpkin chunks, coconut cream, onion, and vegetable stock. With a fairly sweet taste, this soup is great for easing those sugary desires.
11) Mint Avocado Chilled Soup
Soups are often made for warming you up during the winter, but they don't always have to be hot. You can find this Mint Avocado Chilled Soup recipe on PaleoFlourish. This recipe offers a unique alternative for those warmer days.
This refreshing smoothie-styled appetizer has just five ingredients. Avocado, lettuce leaves, coconut milk, mint, and lime juice, along with a blender, is all you need to make this chilled soup in five minutes.
12) Creamy Pulled Pork Soup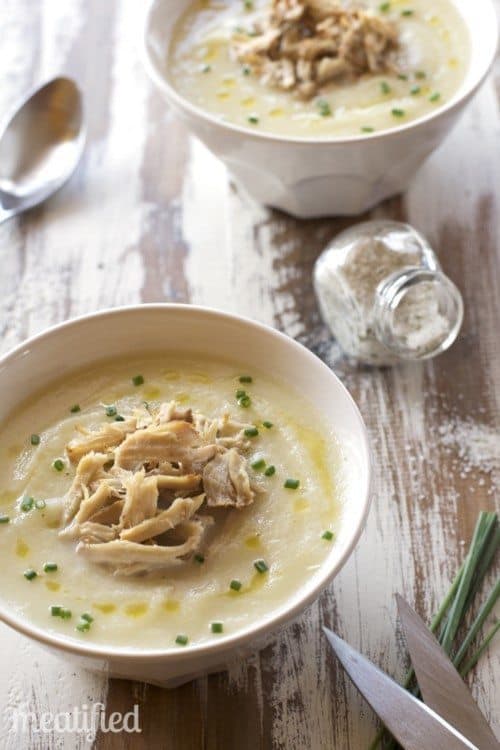 Pork is often neglected when it comes to soups, but this recipe is a great way to include some more meat in your diet. Find the full Pulled Pork Keto Soup recipe on Meatified.
The key ingredients here are onion, cauliflower, pork or chicken broth, pulled pork, and garlic. These ingredients combined produce a very thick almost stew-like dish that's packed with protein.
13) Tomato Feta Soup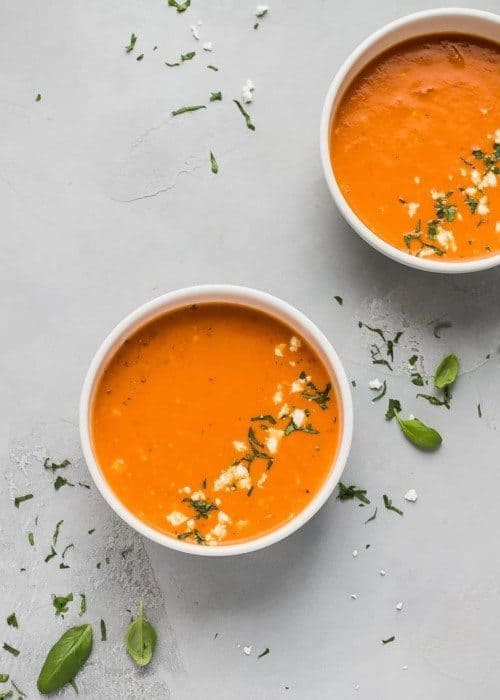 This 30-minute recipe adds a great twist to the generic tomato soup. Check out the complete Tomato And Feta Soup recipe on Cookinglsl. The herbs used in this recipe brings a slightly Mediterranean taste with the primary ingredients being butter or oil, tomatoes, feta cheese, and heavy cream. Erythritol can also be used to reduce the sharpness of the tomatoes.
14) Thai Shrimp Soup
This exotic Thai Shrimp Soup from LowFatLowCarb is infused with ginger and lemongrass and includes zucchini noodles for added density. The main ingredients here are enoki mushrooms, fish sauce, curry paste, shrimp, and zucchini noodles.
15)  Spinach And Artichoke Soup
Artichokes serve as a great addition to soup recipes as they can really bulk out the dish, and for the purposes of the keto diet, they act as a great thickener. We sourced this Spinach And Artichoke Soup from ModernHoney.
The key ingredients in this recipe are heavy cream, cream cheese, chicken broth, butter, and onions.
And there we have it – our favorite keto soup recipes. Have we missed any of your favorites? Let us know, share your go-to keto soup recipes in the comment section below!