Craving a bit of seafood? We've got you covered with this list of keto-friendly shrimp recipes! From grilled to roasted, we have a variety of shrimp dishes for your to delight in.
Read and get eating!
1) Cajun Garlic Shrimp
This shrimp dish is a quick recipe from Simply So Healthy for when you want to indulge in delicious seafood without putting in a lot of elbow grease.
Net Carbs: 0.5g
2) Kerala Style Aromatic Prawn Roast
Aromatic spices and herbs offer intense flavors in this Kerala-style recipe from Nash Plateful.
3) Spicy New Orleans Shrimp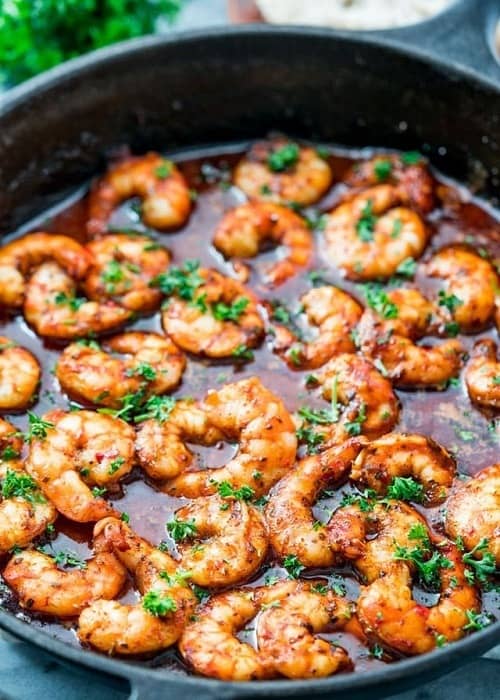 This smoky New Orleans shrimp recipe from Jo Cooks will give your taste buds a terrific taste of NOLA seafood.
Net Carbs: 15g
4) Low-Carb Lemon Crumbed Shrimps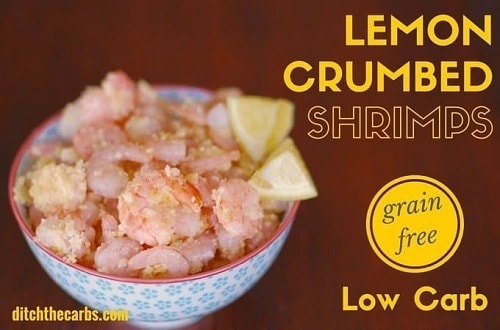 Nutritious yet tasty, you'll be making this simple 5-ingredient shrimp recipe from Ditch The Carbs several times a month for guilt-free shrimp.
Net Carbs: 4.1g
5) Party Shrimp
Ready to eat in less than 10 minutes, this Party Shrimp recipe from South Your Mouth is perfect as a party appetizer or even for munching at home (no occasion needed).
6) Creole Shrimp
Bold and spicy, this hearty Creole Shrimp Stew from Immaculate Bites tastes awesome over a bed of cauliflower rice.
Net Carbs: 9g
7) Garlic Parmesan Roasted Shrimp
Oregano, basil, and parsley add fresh flavors to this simple 4-step prep Garlic Parmesan Roasted Shrimp recipe from Damn Delicious.
Net Carbs: 2.2g
8) Creamy Garlic Butter Tuscan Shrimp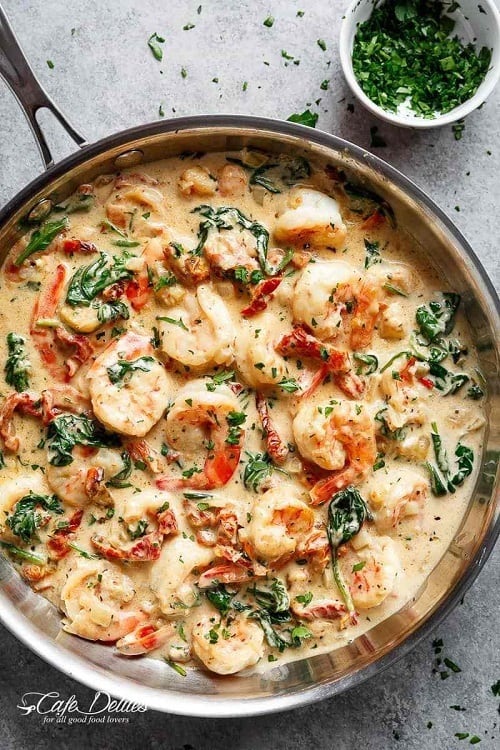 Cooked in a rich garlick sauce loaded with Parmesan cheese, this Creamy Garlic Butter Tuscan Shrimp recipe from Café Delights will wow your guests in less than 20 minutes.
Net carbs: 16g
9) Keto Pad Thai with Shritaki Noodles
A keto-friendly version of the Thai favorite, this Keto Pad Thai recipe from Gnom Gnom is a dish that won't last the night to become a leftover – we dare you to try not to eat it all!.
Net Carbs: 2g
10) Prawn Pepper Fry Chettinad
A popular recipe from the southern part of India, this delicious keto-friendly Prawn Pepper Fry Chettinad from Fas Kitchen will spice up your everyday lunch or dinner.
11) Shrimp Lettuce Wraps with Cajun Cream Sauce
Lettuce wraps with shrimp, vegetables, and mushrooms offer a delicious low-carb meal for keto followers. Plus, Low Carb Yum suggests serving it with a drizzle of Cajun cream sauce for an added bite.
Net Carbs: 5g
12) Buttery Broiled Shrimp
A quick toss in spices, butter, and lemon juice results in these Butter Broiled Shrimp party tidbits from Spicy Southern Kitchen.
13) Shrimp Skewers with Garlic-Lime Marinade
Golden shrimps grilled in a garlic-lime marinade are perfect to deck party plates in this recipe from Skinny Ms.
Net Carbs: 1g
14) Garlic Shrimp Caesar Salad
Lemon, onion powder, and garlic powder-marinated shrimp replaces chicken chunks in this classic keto-ized salad from Paleo Flourish.
Net Carbs: 7g
15) Shrimp And Cauliflower Salad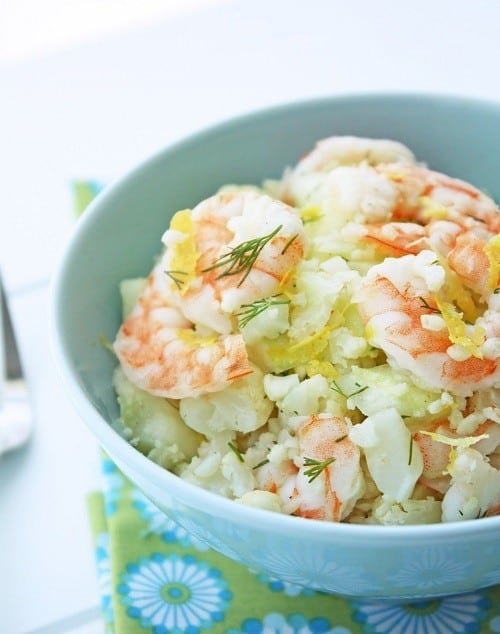 This Cauliflower and Shrimp Salad from I Breathe I'm Hungry soaks in flavors of lemon juice and dill, and will actually even taste better the next day with the added time to marinate! So, don't forget to prep a batch of this tasty salad before signing off for the day.
Net Carbs: 5g
***
That concludes our list of keto-friendly shrimp recipes. We hope you liked the collection and found it useful. If you have more low-carb shrimp recipes worth sharing, share them in the comments for other keto eaters!