Keto's low-carb logistics open new doors for experimenting with classic dishes like lasagna.
The fact that lasagnas tend to have high portions of fat in them from the cheese is absolutely fantastic and in tune with keto requirements. However, most traditional lasagna recipes are packed with carbs due to the pasta involved – that's no good!
Don't worry though – these recipes listed below have managed to cut out the flour-based lasagna sheets and have modified the traditional recipe to be keto compliant.
From the all-meat versions to recipes with sneaky layers of vegetables, these lasagna recipes are versatile and are just the thing for keto eaters who miss this homemade classic.
1) Keto Zucchini Lasagna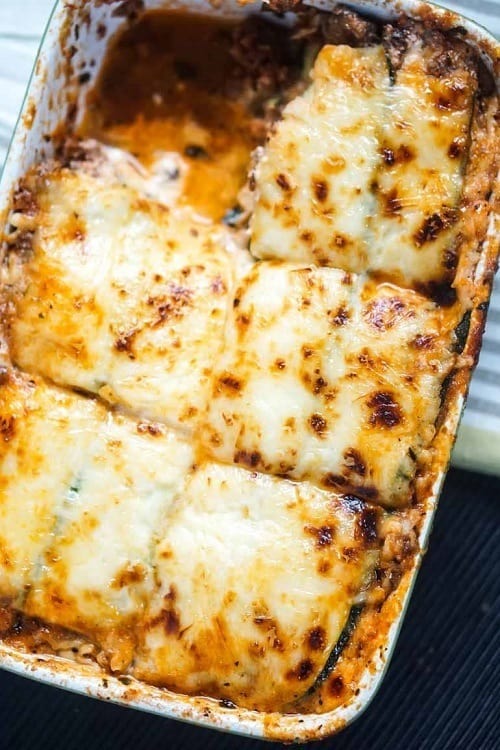 Zucchini slices replace the traditional lasagna sheets in this Zucchini Lasagna Recipe from Ketogasm for a yummy, low-carb, and keto-friendly meal. (Net Carbs = 4g)
2) Eggplant Lasagna with Meat Sauce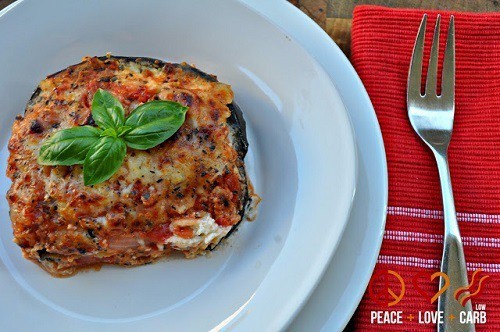 The tangy meat sauce enhances the flavor of this Keto Eggplant Lasagna from Peace Love And Low Carb to the point where you won't even miss those pasta sheets! (Net Carbs = 9g)
3) Cabbage Lasagna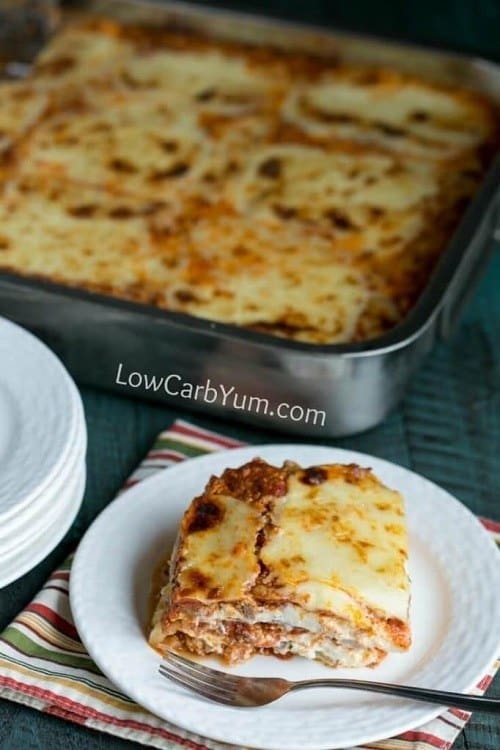 This Cabbage Lasagna from Low Carb Yum is a hearty, nutritious meal loaded with the goodness of mozzarella, parmesan cheese, and cabbage! (Net Carbs = 8g)
4) Cauliflower Lasagna
Cooked with alfredo sauce, loads of different cheeses, and heavy cream, this Cauliflower Lasagna from Hey Keto Mama has to be one of the cheesiest meals you can devour on keto. (Net Carbs = 4g)
5) Keto Meatza Lasagna
Smothered in a tantalizing marinara sauce, this Meatza Lasagna from Low Carb Yum is all about meat and fresh cheese! (Net Carbs = 2g)
6) Cast Iron Keto Lasagna

This lip-smacking Lasagna from Keto Connect is a simple cast iron recipe, perfect for when you don't have an oven ready at hand. (Net Carbs = 4.25g)
7) Keto Lasagna with Pesto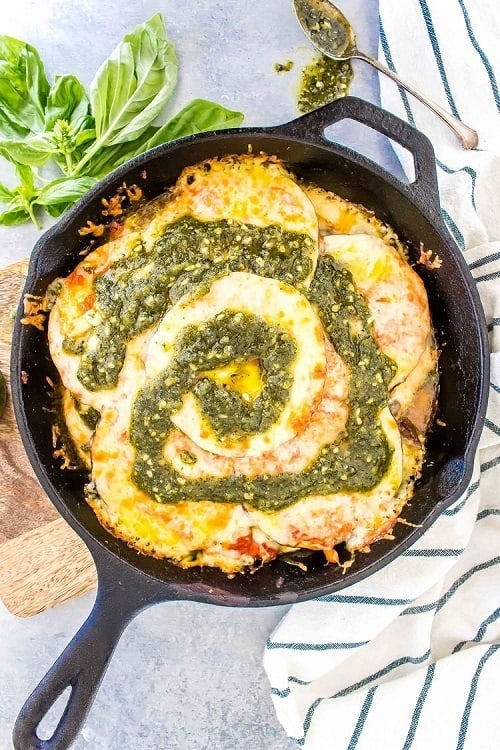 Got a skillet at hand? Well, you can quickly prep this delicious Keto Pesto Lasagna from Cast Iron Keto for a hearty meal. (Net Carbs = 8.6g)
8) Crockpot Low-Carb Lasagna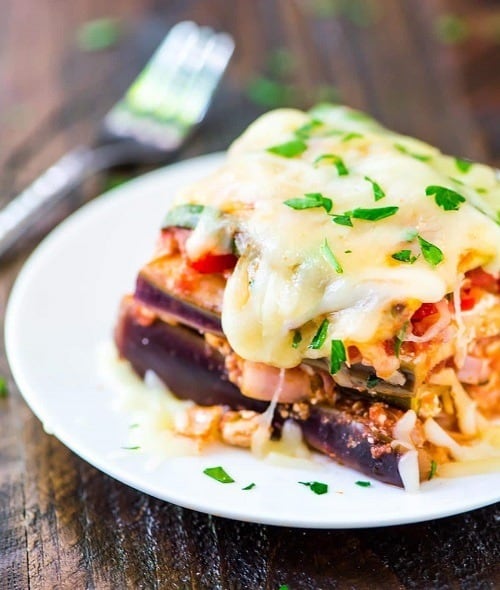 Zucchini and eggplants notch up the nutritional quota while lowering the carb counts of this keto-friendly Crock Pot Lasagna from Well Plated. (Net Carbs = 22g)
9) Spaghetti Squash Lasagna
Layered with mozzarella cheese slices, this gooey Spaghetti Squash from Cave Man Keto brims with delicate flavors and filling spaghetti squash. (Net Carbs = 13g)
10) Keto Pizza Lasagna Casserole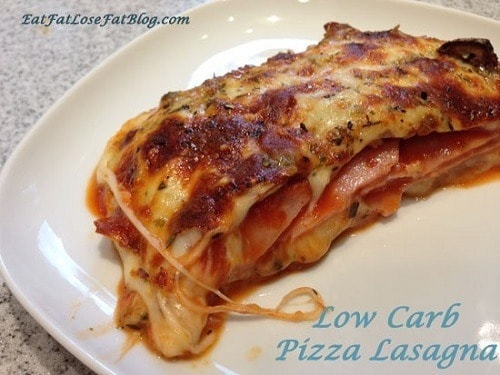 This bacon and cheese-layered Pizza Lasagna Casserole from Eat Fat Lose Fat Blog is the ultimate Friday night recipe. (Net Carbs = 12g)
11) Keto Lasagna with Fathead Noodles
Lasagna with almond-flour pasta strips – yup, it's possible! This Lasagna from Hip 2 Save is not only low-carb and fit for keto, but also delicious as heck. (Net Carbs = 9.5g)
12) Cauliflower Mexican Lasagna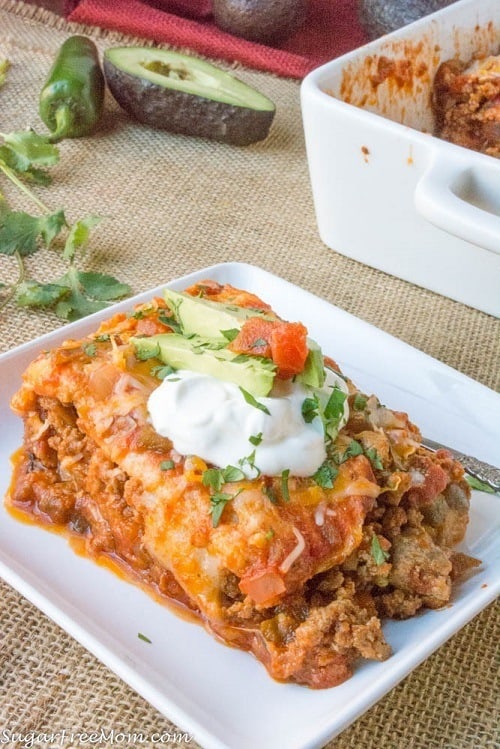 Look at that cheesy goodness! Who could have imagined this low-carb Mexican Lasagna from Sugar Free Mom could have cauliflower tortillas hidden in it for an extra bite of nutrition? (Net Carbs = 8g)
13) Keto Spinach and Ricotta Lasagna
This creamy Spinach and Ricotta Lasagna from Aussie Keto Queen is a hearty, meat-free, filling meal, perfect for when you are craving a healthy vegetarian option. (Net Carbs = 8g)
14) White Lazy Lasagna
This White Lazy Lasagna from Joy Filled Eats uses layers of spinach for a healthy keto-friendly variation. (Net Carbs = 5g)
That concludes the list of our keto-friendly lasagna recipes. If you think we've missed out your favorite keto-compliant lasagnas, share them in the comments section!