With 20-30g of protein in your average chicken breast, chicken is an ideal meat source in the keto diet.
You won't find any dry, bland chicken on this list. We have compiled 19 creamy, cheesy, crispy chicken dishes that will make your mouth water!
Gimme Delicious created a Cream Cheese Spinach Stuffed Chicken recipe that is so creamy and tender my mouth is already watering. The Italian seasoned chicken breasts are stuffed with spinach, cream cheese, Parmesan, mozzarella, and garlic. This elaborate meal is ready in under 40 minutes! (Net Carbs= 3.3g)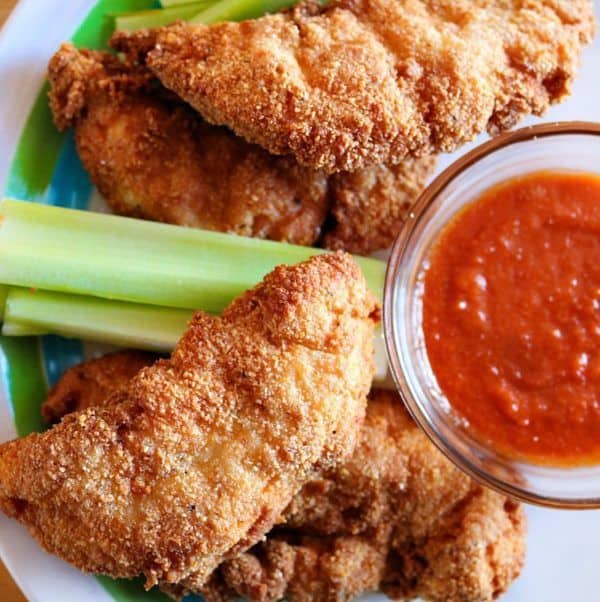 Now you can skip those greasy, restaurant chicken tender baskets and make your own Keto Chicken Tenders! How to This and That covers chicken breast tenderloins in almond flour, heavy cream, and egg to make this crispy, low-carb comfort food. This recipe has a fry or baked option for your dietary preference. (Net Carbs= 2.5g)
Cast Iron Keto put a low carb spin on a traditional Indian dish with this Keto Buttered Chicken recipe. The chicken breast is seasoned with garam masala, ginger, garlic, yogurt and coconut oil. Then, this is smothered in a golden sauce containing ghee, ginger, garlic, tomatoes, coriander, chili powder, cumin, and heavy cream. Serve with a side of cauliflower rice for a healthified Indian cuisine. (Net Carb= 6g)
One pot. Thirty minutes. Unrivaled flavor. Peace love and low carb created this tender, juicy, and EASY weeknight dinner of Herbed Chicken and Mushrooms. This recipe highlights chicken thighs, oregano, thyme, rosemary, mushrooms, garlic, and dijon mustard. (Net Carb= 2.5g)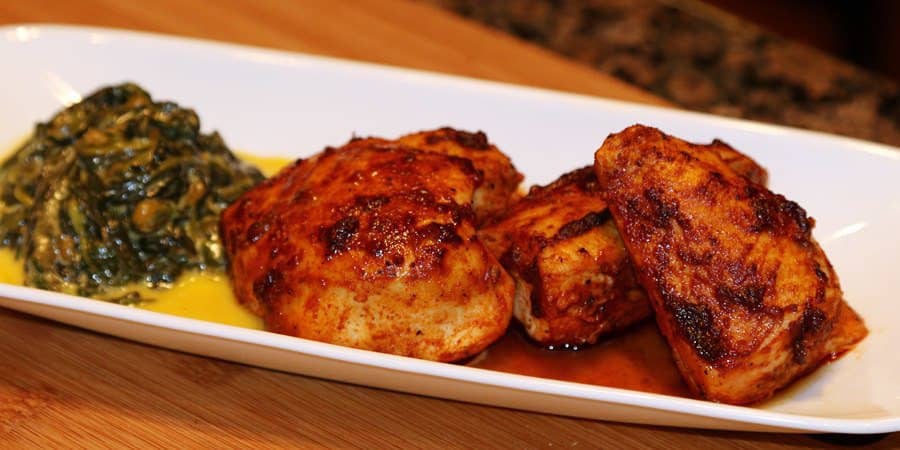 This recipe for Keto Paprika Chicken originates from Ruled.me. Skinless chicken breasts are covered in a smoky sauce of paprika, lemon juice, maple syrup, and garlic. This sauce is versatile and can spice up any chicken dish you've got! (Net Carbs= 8g)
I'm pretty sure food always tastes better in a bowl. Hey Keto Mama proves this point with her Keto Chicken Enchilada Bowl. Red enchilada sauce, green chilies, and onion cover the chicken breast and cauliflower rice to form a Mexican fiesta in a bowl! (Net Carb= 5g)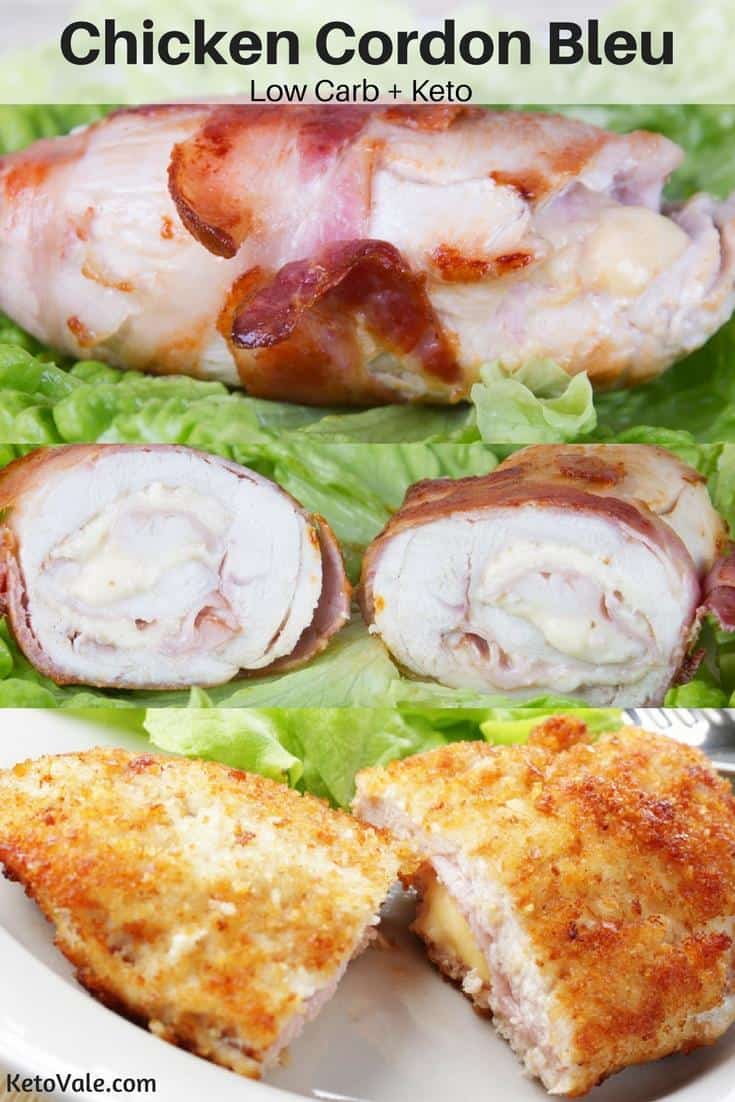 Ketovale made a Keto Chicken Cordon Bleu that will surely rival any other version. In this recipe, the chicken breast is stuffed with ham and cheese and then wrapped in bacon. I'm sure I had you at bacon, so go give this recipe a try.  (Net Carb= 1.5g)
This high protein, healthy fat-filled recipe is called Easy Keto Chicken Salad from Perfect Keto. Celery, mayo, mustard, dill, and pecans, coat baked chicken breast pieces. This chicken salad is great on its own or inside lettuce wraps. (Net Carb= 0.4g)
Low carb casseroles can be hard to come by. Joy Filled Eats made a family favorite: Bacon Ranch Chicken Casserole. Chicken, broccoli, parsley, dill, bacon, cream cheese, sour cream, mayo, and cheddar cheese are the stars of this dish. Bust out your trusty 9×13 and bake this easy meal tonight! (Net Carbs= 4g)
This recipe for Lazy Keto Chicken from Caveman Keto has all the delicacies of stuffed chicken without the hassle! In this recipe, chicken breasts are topped with cheddar cheese and jalapeno and then wrapped in bacon. Your weeknight just got a whole lot better. (Net Carbs=1g)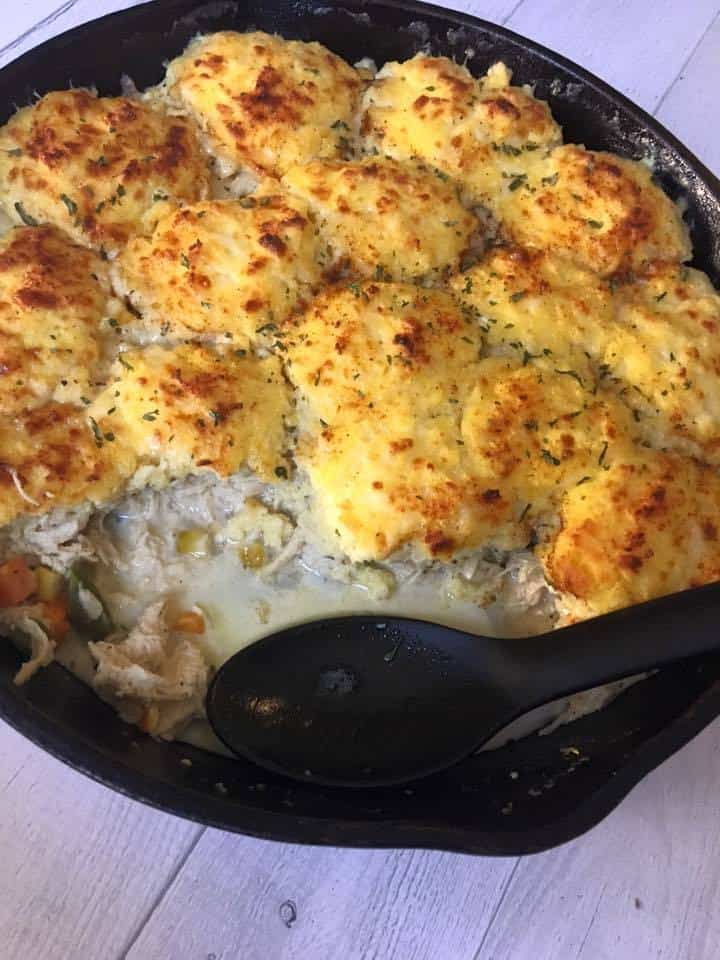 This Chicken Pot Pie is made keto-friendly thanks to Kasey Trenum. The filling consists of mixed veggies, garlic, heavy whipping cream, chicken broth, poultry seasoning, rosemary, and of course, chicken. The crust, constructed mainly of coconut flour, sour cream, butter, and cheese, is sprinkled on top of the filling. You get the soul-warming crust in every bite, but half the carbs! (Net Carbs=2.6g)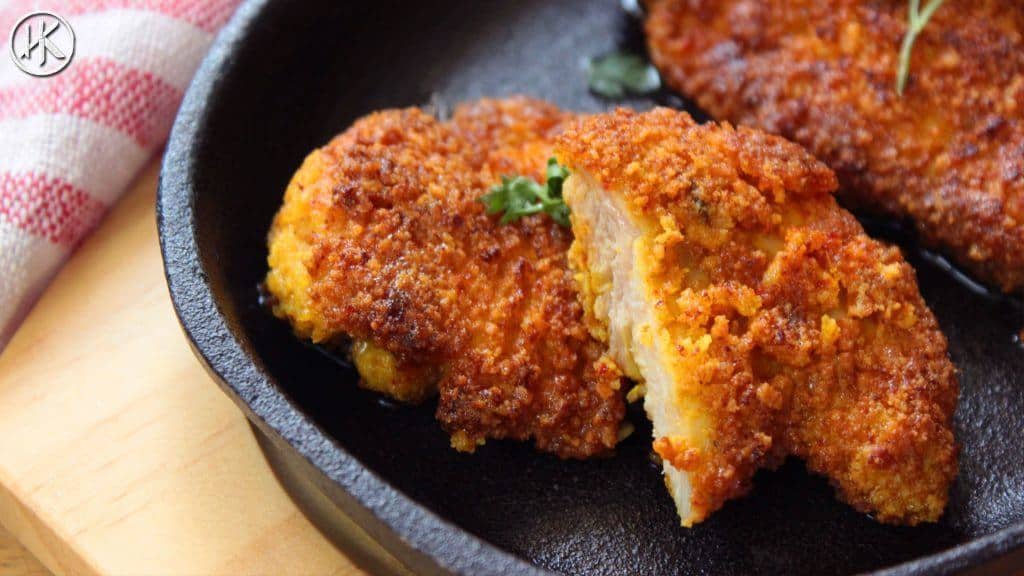 Headbanger's Kitchen created a whole new version of KFC: Keto Fried Chicken! Almond flour, garlic, turmeric, chili powder, coriander, cumin, and egg form a flavor-packed crust to the chicken breasts. This is still "finger lickin' good." (Net Carbs= 1g)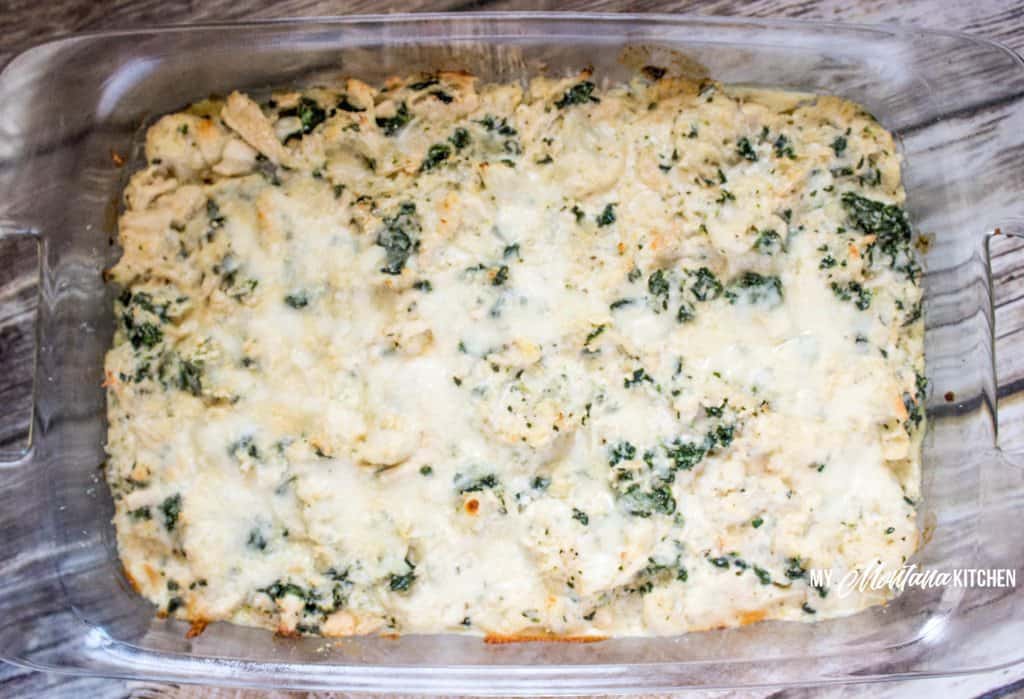 This Low Carb Alfredo Chicken Casserole originates from My Montana Kitchen. This casserole is not only low carb, but gluten free, and FULL of flavor. What will you need for this cheesy, creamy recipe? Cream cheese, heavy whipping cream, Parmesan, basil, chicken, cauliflower, spinach, and mozzarella cheese. (Net Carbs= 3g)
Fajitas are a quick, healthy go-to meal. Keto Diet App makes it even easier with this recipe for Keto Chicken Fajitas. This recipe calls for marinated chicken in garlic, oregano, cumin, paprika, chipotle chili powder, and olive oil.
The chicken is then tossed with stir-fried vegetables and topped with your choice of guacamole, salsa, cheese, sour cream, and/or fresh cilantro. The best part of fajitas is that the ingredients are interchangeable and can be adapted to your personal preferences. (Net Carbs= 5.6g)
Keto Connect elevates chicken tenders with a spicy, perfectly seasoned buffalo sauce for their Buffalo Keto Chicken Tenders. They also have a low carb barbecue sauce if buffalo isn't your style. The chicken tenders are simply chicken breasts coated in almond flour, egg, and heavy whipping cream. They are then baked and smothered in BBQ or buffalo sauce. These chicken tenders are game night ready! (Net Carbs=3g)
Finding keto compliant meals at a restaurant can be challenging. Well, this Creamy Tuscan Garlic Chicken from the Recipe Critic tastes like it came straight from a professional chef and you don't even have to leave your house.
This recipe requires just 9 ingredients: chicken breasts, olive oil, heavy cream, chicken broth, garlic powder, Italian seasoning, Parmesan cheese, spinach, and sun-dried tomatoes. Skip the trip to the fancy restaurant and make your own high-quality meal tonight!
This chicken is addicting for two reasons. 1.) It takes 15 minutes to prepare. 2.) It is undeniably delicious. Fit Mom Journey compiled this Slow Cooker Crack Chicken using just 4 ingredients: frozen chicken (you don't even have to remember to thaw the meat!), ranch seasoning, cream cheese, and bacon. Throw this together in the morning and you'll come home to beautifully seasoned chicken and a beautifully smelling house! (Net Carbs= 4g)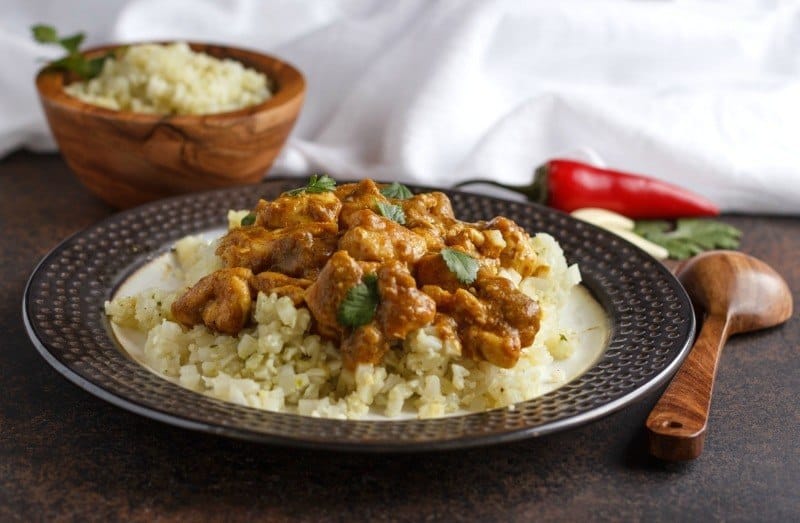 If you're looking for a change of pace in your chicken routine, this Keto Chicken Korma from Beauty and the Foodie is for you! This recipe uses ingredients such as almond butter, garlic, ginger, coriander, coconut milk, Greek yogurt, and turmeric for a savory, creamy, anti-inflammatory Indian meal. (Net Carbs=5g)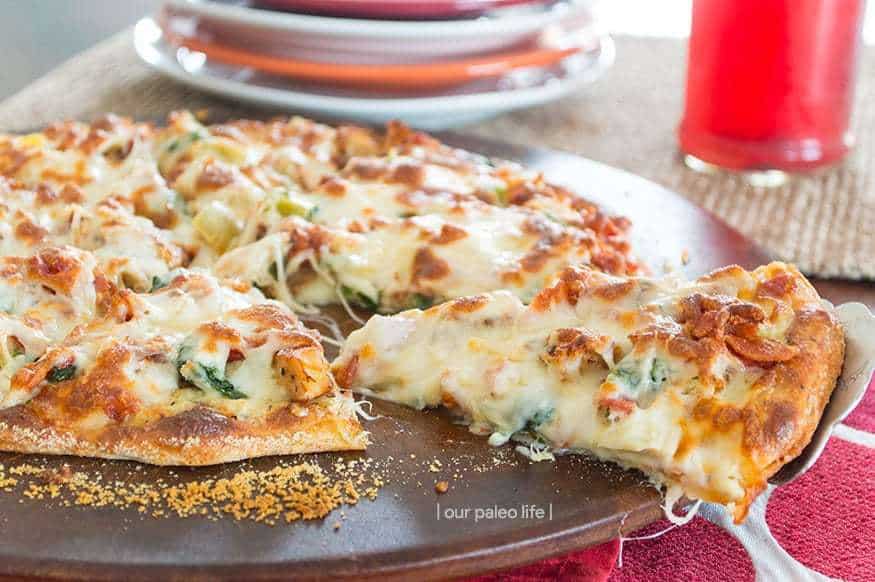 Our Paleo Life saved the day with this recipe for Chicken Bacon Artichoke Pizza. The low-carb crust is made with mozzarella cheese, almond flour, cream cheese, and egg. This is topped with a homemade white sauce and all the beautiful toppings: bacon, spinach, chicken, artichokes, and mozzarella.
This will be your new favorite pizza, guaranteed. (Net Carbs=5g)
This concludes our list of keto chicken recipes. Did we miss one of your favorites? Let us know in the comments below!