We live in the era of optimization – from Soylent for eating to FitBit for step-tracking, humans are getting increasingly better at collecting data about themselves and working to reach their peak perfection.
When it comes to sleep, Eight is a mattress brand that's working hard to bring data to the dreamworld.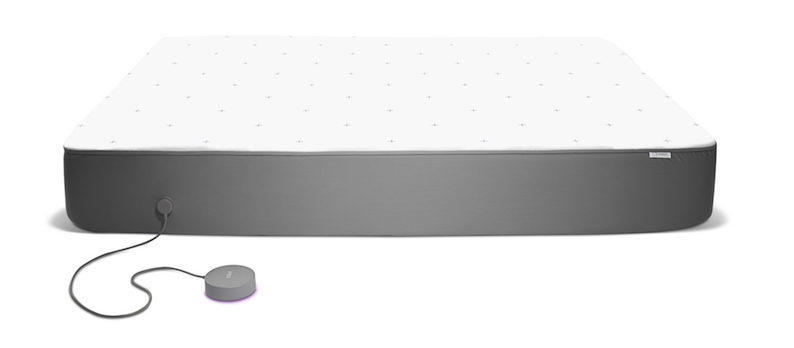 What Is Eight?
Eight is a smart mattress made of four support and comfort foam layers – but what really makes Eight unique is its 5th layer – the "technology layer" composed of a special sensor that tracks your movement and transmits sleep activity data, serving as your personal sleep tracker.
The real magic is what that collected data can do. This smart mattress can:
Track your quality of sleep (including your respiratory rate)
Evaluate room temperature and heat your bed accordingly
Adjust different settings for the two sides of the bed
Measure room light
You actually have the option to buy the technology layer separate from the mattress, allowing you to essentially turn any existing mattress into a "smart" mattress. Or, you can purchase the entire mattress itself.
Check out this video Eight offer giving a little overview on what their smart mattress is all about:
[video_page_section type="youtube" position="default" image="" btn="light" heading="" subheading="" cta="" video_width="1080″ hide_related="true" hide_logo="false" hide_controls="false" hide_title="false" hide_fullscreen="false"]https://youtu.be/VlS5SMVeKn0[/video_page_section]
Let's spend some time digging into some of the main advantages that Eight provides.
Superior Sleep Tracking
With the introduction of FitBit and other similarly-styled trackers, smart sleep has become a bit of a trend. There are even apps that allow you to place your phone by your pillow and track your sleep movement through your phone's gyroscope.
The main failing with these options is the mandatory requirement to wear a tracking device, or the necessity of sleeping with your phone in bed (I for one at least need some time where I'm not tethered to my smartphone).
Eight doesn't force you to wear a tracker all night or require you to turn on a special setting – you just hit the hey and reap the rewards.
Also, because the technology layer has such advanced sensors, the accuracy of the data is more reliable than your run-of-the-mill wrist trackers or apps.
The sleep tracker syncs with the Eight app and shows how restful your sleep was, evaluating your sleep based on several different sleep metrics.
Track how much time was spent tossing and turning, and what times of the night were your most troubled or when you slept soundly.
Smart Alarms For a Gentle, More Refreshing Wake Up Call
The Eight mattress also uses a really cool smart alarm feature.
You select a half hour window during which you'd like to wake up, and then the mattress tracks your sleep and will wake you up during your lightest sleep stage, within a half hour before your selected time.
This way, you'll never be woken up too late, but the bed may choose to wake you up ten or twenty minutes before your selected alarm time if the smart bed senses that you're at your lightest sleep stage, when waking up will be easiest.
As someone who has dabbles with this kind of technology, I can testify that waking up during the light stage of your sleep cycle makes a huge difference.
I wake up feeling more alert, less groggy, and generally more ready to attack the day. Getting woken up randomly by an alarm clock, during a deep sleep cycle, forces me to maintain zombie mode for way too long into the morning.
Smart alarms let me start my day on the right foot feeling good! This is honestly one of the features I am most excited to see in this mattress.
White Noise Features + Nighttime Meditation Aid
Oh but it gets better my friends! You can choose from several alarm tones that have been specifically designed to match certain moods.
The Eight app also comes with a white noise feature that can be turned on if the college students downstairs are throwing a rager or if your neighbor's baby is feeling particularly fussy.
The app even comes with meditation sessions that can be turned on before bed time to help you relax and enter a proper dream state.
IFTTT Compatibility + Sleep Optimization
If you're at all into home optimization or online automation, you've probably heard of IFTTT (If This Then That).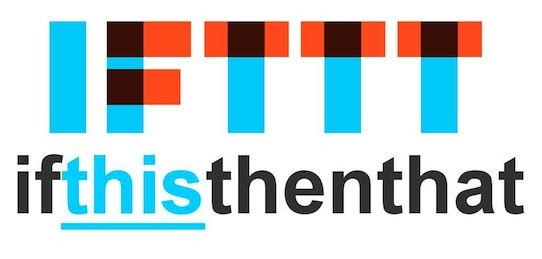 IFTT allows users to sync various aspects of their digital life together, saving time and keeping your life running smoothly.
For example, some of my favorite IFTT "applets" are:
Send a weather forecast to my phone every morning at 8am
Automatically turn my phone on silent mode when I get to my office
Whenever I post an image to Instagram, save a copy of that image to my Google Drive
What's really incredible is that Eight is the first mattress to allow for IFTT compatibility.
What does this mean exactly?
Well, it means you can do cool stuff like:
When you get out of bed, have your coffee maker turn on and brew up some joe
Have your Hue lights turn to a warmer shade and dim when you get into bed at night
Set up your Hue lights to brighten in the morning to wake you up, rather than getting woken by a loud, jolting alarm sound, effectively functioning as a sun lamp.
Have your bed automatically warmed up at night when the temperature dips below a certain point during winter evenings
And countless other amazing smart connections
Of course having your coffee brew right when you wake up is awesome, but the IFTTT applet I think would be the most beneficial is the setup to have your Hue lights brighten in the AM to wake you up.
I'm all about waking up naturally, and have been considering getting a natural wake up lamp that imitates sunshine for quite some time. Eight's IFTTT compatibility with Hue would allow you to set up a system like this for a natural wake up call.
What's the Mattress Made Of?
So far we've talked a ton about the technology (and with good reason – that's where all the fun is). But it's worth noting that the Eight mattress itself is no laggard.
Four Layers of Foam
The Eight mattress is composed of four high density foam layers and one smart technology layer (which is what we've been going on about for most of this article).
The four high-quality foam layers are all CertiPUR-US certified, and are composed as follows:
1st layer:

2 inches of reactive poly foam.

This poly foam is designed to be bouncy like latex but feel soft like traditional foam, providing comfort while staying cool.

2nd layer:

2 inches of contouring memory foam.

This contouring memory foam layer provides pressure relief and comfort.

3rd layer:

2 inches of supportive transition poly foam.

This layer adds additional comfort and allows for better weight distribution

4th layer:

4 inches of high density support base foam.

This layer of support foam offers a durable firm foundation, while also maintaining breathability.
This series of foam layers also means that the Eight smart mattress is a great choice for those suffering from arthritis, as it provides just the right amount of support (firm enough to provide support to your spine and keep it properly aligned, but not so firm as to cause joint pain or soreness).
The warming feature is also especially suited towards those suffering from arthritis, as the heat can soothe aching joints and provide added relief.
Pricing, Cost & Sizing
The Eight mattress comes in four different sizes, and is priced differently depending on which size you go with:
Full:

54" x 75" x 10" for $950

Queen:

60" x 80" x 10" for $1,050

King:

76" x 80" x 10" for $1,150

California King:

72" x 84" x 10" for $1,150
Note: For a limited time, you can get $100 off an Eight mattress, bringing the price down even further. For a limited time, Eight is offering an incredible Labor Day sale. Use code LDSALE and get $100 off an Eight mattress + 2 free pillows and free shipping!
Alternatively, you can buy just the smart mattress cover with sleep tracking tech for $400, and use it with your existing mattress if you prefer.
Shipping
Another really cool bonus feature about the Eight smart mattress is that it vacuum sealed and arrives in a small box that's the size of a camping tent or golf bag.
This means no stressful management of movers, no worrying about chipped drywall corners, and no extreme pivoting.
Warranty + Free Trial Deal
Eight also offers a nice warranty with their mattress – they have a 100 night trial with free shipping and free returns if you don't like the mattress.
The mattress itself also comes with a 10 year limited warranty, while the technology layer has a 1 year limited warranty.
If you live in New York, you can go test Eight out for yourself in a showroom (be sure to share your experience in the comments)!
How Does it Compare To Other Mattresses?
There aren't too many mattresses on the market quite like Eight, but it can may be helpful to compare Eight against some loosely similar online competitors.
Casper mattresses are priced between $800 for a full – $1,500 for a California King.
Tuft & Needle start at $500 for a full – $750 for a California King, but they are only made with two layer of foam, as opposed to Eight's 4 layers of foam.
The major difference of course is that these mattress sellers don't include innovative technology layer that Eight utilizes.
Ultimately, Eight isn't the cheapest mattress on the market, but it's priced quite competitively with other online retailers, even while offering impressive quality and unique technological innovation.
What Do Customers Think? Eight Mattress Reviews
Customers have largely very favorable things to say about the Eight smart mattress.
Note: Information below curated from reviews collected on various 3rd party review sites.
On the technology: Most are absolutely blown away by the technology – fans adore the heating feature and are especially impressed that the mattress can adjust for two different heating temperature settings for each side of the mattress, allowing partners to sleep cozy together in peace.
Tech fans also note that they feel they can trust the Eight sleep metrics more than the standard wear-and-sleep trackers that have become popular as of late. Techies love the compatibility with IFTTT and all the recipe functionality, which they hope to see grow in the future. One customer noted that he especially liked the respiratory rate feature, which is quite unique.
On the all foam design: Some customers were hesitant at first to try a 100% foam style mattress (as opposed to the traditional coil style), but end up coming away pleasantly surprised.
One customer noted that during the first week, him and his wife found the foam a bit too soft. However, they found that the foam actually adjusts over time, and after a couple of weeks, the foam adapted and became much more comfortable and hit the perfect firm level.
On the setup and installation: Customers noted that while the concept of setting up a smart mattress sounded slightly daunting, the process was very simple, easy, and well-guided through the assistance of Eight's streamlined institution guide. One user notes that it only took a few minutes to set up.
Disclaimer: I have not myself tried the Eight mattress – this review has been created through the use of manufacturer product information, outside customer reviews, and other 3rd party resources.