Looking for a little help encouraging your kid to brush their teeth at night? There are many electric toothbrushes catering to children, with music, character-themed designs, and other bonuses made to help make brushing fun for youngsters.
First we'll talk about a few different things to look for in a kid's electric toothbrush, and then go on to highlight our top picks.
Best Kid Electric Tooth Brushes: Quick Picks
See our quick picks here, or keep reading for full reviews and more details.
What to Look For In a Kid-Friendly Electric Toothbrush
Music. Many toothbrushes geared towards kids will play a song when the child brushes, helping to make brushing a fun and exciting activity.
Colors. Kid-oriented toothbrushes often feature bright colors that children will find appealing. Seek out electric toothbrushes that sport your kid's favorite colors to make it a favorite staple in the bathroom.
Timer. While it's not a feature that all kid-themed toothbrushes have, a built-in timer can be really handy when it comes to establishing good brushing habits at a young age. Statistics show that many adults don't brush nearly long enough, with few hitting the recommended 2-minute mark. Teaching your child to brush for the recommended amount of time can help ensure a lifelong practice of good brushing!
As a bonus, some toothbrushes combine music and timers, such as a toothbrush that plays a certain song or jingle until the 2 minutes of brushing time is up.
Character Themes. Some electric toothbrushes will feature characters from children's television shows or movies on the handle. This is an easy way to make a toothbrush much more interesting and valuable in the eyes of a kid. If you happen to find a brush with your child's favorite characters emblazoned on the brush, make sure to grab it!
Stickers. Some brushes include stickers that kids can put on their brush to customize it and make the brush their own!
Companion App. Several brushes in this list have companion apps that are free with the toothbrushes. These apps often will animate the brush's characters and offer badges or incentives for when kids complete their brushing routine. Many parents note that these gamification apps work wonders on getting their kids excited about brushing!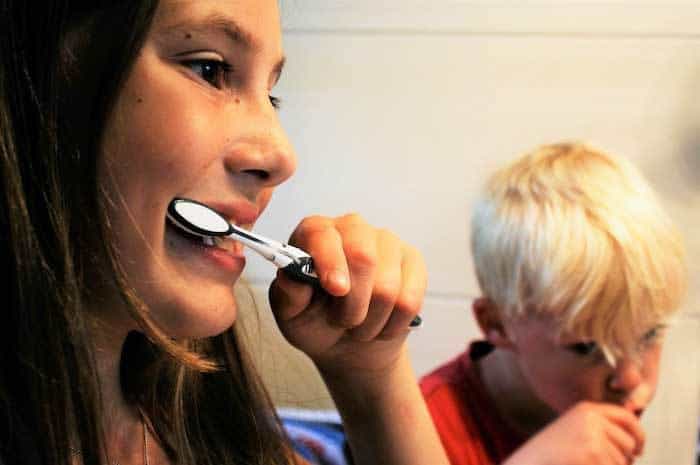 What Age Should I Have My Kid Start Brushing Their Teeth?
Most dentists recommend that you should brush your child's teeth at least until they reach age 6 – more or less, until they have enough coordination to tie their own shoes. Young kids can also be too hard on their teeth and potentially damage their soft tissue, so it's better to brush for them.
Some younger kids may want to brush themselves – it's fine to let them practice, but make sure to follow up with a proper cleaning yourself!
Top Picks for Best Children's Electric Toothbrush (2018 Reviews)
The Philips Sonicare Toothbrush For Kids brings all the quality and nifty tech features of the popular Sonicare brand to kids!
Sale
Philips Sonicare for Kids 3+ Bluetooth Connected Rechargeable Electric Power Toothbrush, Interactive for Better Brushing, Turquoise, HX6321/02
98% of parents say it's easier to get kids to brush longer and better.
91% of dental professional parents prefer Sonicare for Kids for their own children.
Interactive free app educates and gets kids excited about brushing. Exciting rewards for successful brushing sessions.
Better check-ups guaranteed! Patented sonic technology. is 75% more effective than manual toothbrushes in hard to reach areas.
The KidTimer gradually increase to two minutes to help train kids to brush the recommended time, and KidPacer musically alerts when to move to the next quadrant of the mouth to ensure a thorough cleaning.
This toothbrush has some cool stats surrounding it – 98% of parents report that it's easier to get their kids to brush their teeth with this brush (although you might find similar stats for any kid-friendly brush with the features we detailed above).
Included with this toothbrush is a free interactive app that rewards kids for each brushing session they complete, adding a nice element of gamification.
The brush uses a 2-minute timer to ensure that your child brushes for the recommended amount of time. Similar to the higher-end adult electric toothbrushes, this brush gives a pulse every 30 seconds to remind children to move the brush to the next teeth quadrant.
As a bonus, the brush also comes with stickers that allow kids to customize their toothbrush and make it their own!
PROS: Kids seem to adore the musical alerts, and parents note that the accompanying app really works when it comes to motivating their kids to brush regularly. Kids are psyched to earn badges for completing brushing sessions!
CONS: Users note that if your child is under 5, you should probably purchase the smaller brush heads that can be put onto this brush, as the brush heads that come with this unit, while smaller than the adult brush heads, may be too small for very young children. Some also report major issues with mold growing behind the faceplate, but others don't seem to have this issue, so the problem may depend on how often you clean the device.
Oral-B Disney Pro-Health Star Wars Electric Toothbrush
This kid-friendly toothbrush from Oral-B is perfect for your youngling Jedi-in-training.
This battery-powered brush features three different designs: Yoda Green, Darth Vader Red, or Stormtrooper Red.
While the brush does not come with its own vibrating timer, it does come with the Disney Magic Timer App by Oral-B. If kids use the app while they're brushing, the app will start a 2-minute timer to keep kids brushing for the full recommended amount of time.
Disney's app, similar to the Philips Sonicare Kids app, offers rewards and incentives for kids to complete their daily brushing routine.
Characters from the toothbrush are animated within the Disney app, allowing your kid to engage with his or her favorite characters!
PROS: Parents agree that this brush gets their kids excited to brush their teeth.
CONS: The toothbrush head can't be replaced, so once you've used this brush for a couple months, it's time to toss it. It also seems that buyers are unable to choose the character they want on Amazon, which is a bit of a bummer.
Oral-B Pro-Health Disney Princess Power Electric Toothbrush
This brush is basically the same as the version mentioned above, except that this brush features Disney princess characters, rather than Star Wars characters.
Oral-B Frozen Kids Electric Rechargeable Toothbrush
Oral-B Kids Electric Rechargeable Power Toothbrush
Its distinct shape allows the toothbrush head to surround each tooth for individual cleaning
With a waterproof handle, this electric toothbrush uses a Sensitive Clean toothbrush head for a gentle brushing
Makes it a breeze for your kids to develop healthy brushing habits
Use it with the Disney Magic Timer App by Oral-B, and your kids will enjoy brushing along with their favorite Frozen characters
This is another electric toothbrush from Oral-B, but rather than being battery powered and disposable, this brush can be used long-term with its rechargeable battery and replaceable brush heads.
As with the other Oral-B kids brushes, this brush can be synced to the Disney Magic Timer App, which allows kids to interact with their favorite Frozen characters.
This toothbrush also has a built-in vibration timer indicator – a short pause occurs every 30 seconds to indicate that it's time to move to the next mouth quadrant, and then pulses twice once the total 2 minutes are up.
It's recommended that parents replace the brush heads every 3 months. Indicator bristles will wear down halfway to indicate when it's time for a replacement.
We do think it's a bit strange that only the packaging is really Frozen themed – the toothbrush design simply features some stars and swirls.
PROS: Most parents find that this is a great toothbrush for getting their kids to brush regularly.
CONS: Users note that this type of toothbrush isn't best for continuously moist climates, as this increases the brush's susceptibility to growing mold. Some also note that they wish the brush holder had some kind of light to indicate charge status.
Oral-B Rechargeable Disney Toothbrush With Pixar's Cars or Dory
This brush is quite similar to the one above, with the major difference being this brush's unique and colorful handle design. With this brush, the entire unit is covered in bright colors and fun, engaging shapes meant to appeal to kids.
The brush comes with a very small head, designed for small mouths (3+). This brush also promises to last 5 days on a single charge with its electric rechargeable battery.
The Oral-B Disney electric toothbrush also features 16 different melodies, with a signal to indicate when kids should switch from the top of their mouth to the bottom.
As with other Oral-B kids models, this brush comes with an app that offers rewards and incentives for kids to brush their teeth. However, this model offers built-in timers, rather than relying solely on the app for a timer.
PROS: Parents note that kids love the engaging app as well as the fun melody that plays while brushing!
CONS: Buyers are frustrated that you are unable to select which character design you want – at least on Amazon.
Brusheez Children's Electric Toothbrush
Brusheez® Kids' Electric Toothbrush Set - Safe & Effective for Ages 3+ - Parent Tested & Approved with Gentle Bristles, 2 Brush Heads, Rinse Cup, 2-Minute Timer, & Storage Base (Prancy The Pony)
YOUR KIDS NEW FAVORITE TOOTHBRUSH: Make brushing fun with this cute and colorful, animal-themed electric toothbrush for kids that's designed for brushers ages 3+ to promote healthy oral hygiene!
EFFECTIVE AT REMOVING PLAQUE: Soft, high-quality bristles provide gentle vibration that removes 2x more plaque than a manual toothbrush. Plus, each Brusheez toothbrush comes with a replacement brush head to replace every 3 months, so you can keep their toothbrush dry and germ-free, and ensure that the bristles stay durable and effective!
CERTIFIED KIDS SAFE: Our Brusheez kids electric toothbrush is a Parent Tested, Parent Approved award winner, completely BPA-free, and is certified safe for kids!
TRACK YOUR CHILD'S PROGRESS: What child doesn't love getting a gold star? Using the free brushing checklist included with this set, your child can earn 2 stars per day by remembering to brush morning and night.
WHAT YOU GET: Battery-powered children's toothbrush, animal-themed brush cover, replacement brush head, rinse cup, 2-minute sand timer, stand, user manual, printed brushing chart, and industry-leading 5 Year Warranty.
The Brusheez Children's Electric Toothbrush definitely is the most fun-looking brush out of all on the list!
This toothbrush features a design based on "Prancy the Pony", a bright pink colored horse with a pony-headed cap. The set comes with a unique toothbrush base that includes a 2-minute sand timer, a water cup holder, as well as a spare toothbrush head.
The brush uses two AA batteries that can be replaced. Brush heads can also be replaced after a few months of use.
Note: Brusheez also comes with two other designs – Jovie the Giraffe and Buddy the Bear, who are equally as cute!
PROS: Parents note that kids love the design and are especially fond of the sand timer.
CONS: Users note that the on/off button requires more finger power than a 3-year old can manage, although most parents would still be brushing their kid's teeth at that age anyway.
Have you used any of these electric toothbrushes to encourage your kids to brush more regularly? How did they work out? Share your thoughts in the comments!
Last update on 2023-12-01 / Affiliate links / Images from Amazon Product Advertising API