Keto pasta sounds like an oxymoron – pasta is made of flour, and carbs are a no-go on keto, so what gives? Well, keto eaters have devised some pretty creative ways to get their pasta (or pasta-substitute) fix while on keto.
The keto-friendly pasta recipes listed below will satiate your cravings without spiking the carb count. From spaghetti squash to shirataki pasta, check out these crazy pasta alternatives that will have you forgetting all about classic carbonara.
1) Low-Carb Cauliflower Mac and Cheese
Cauliflower is a prime keto vegetable and Keto Connect has brilliantly used it in this Mac and Cheese recipe- an alternative that's just as remarkably delicious as the traditional dish. (Net Carbs = 5.5g)
2) Zoodles with Sardines, Tomatoes and Capers
Sardines are full of fat and protein and are often hailed as "keto superfood". This recipe from I Breathe I'm Hungry with zoodles and sardines is possibly the best keto-friendly pasta alternative you can ask for.
3) Keto Creamy Avocado Pasta
Get zoodling with this Creamy Avocado Pasta from The Healthy Foodie. This tastes just like a satisfying, creamy bowl of pasta! (Net Carbs = 19.2g)
4) Keto Fettuccine Alfredo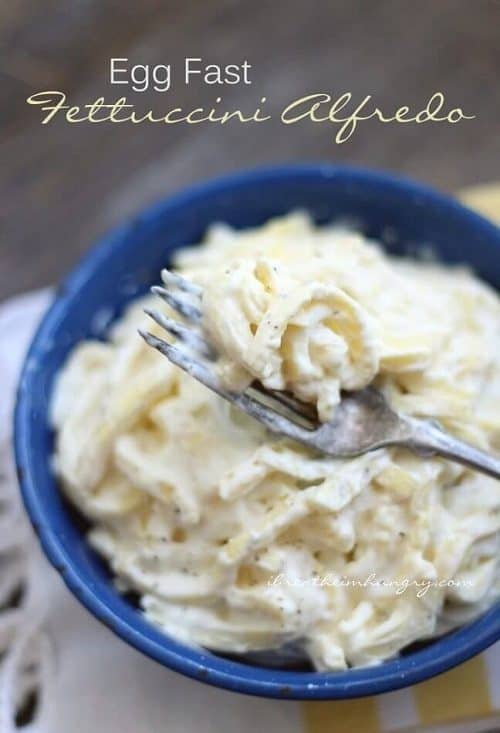 With a carb count so unbelievably low, you'll want to cook this creamy Fettuccine Alfredo from I Breath I'm Hungry at least two times a week! (Net Carbs = 2g)
5) Keto Pasta with Bleu Cheese Sauce
Don't have a spiralizer yet? You can still enjoy a bowl of hearty, keto-friendly pasta with this recipe from Diet Doctor that uses pasta strips made of cream cheese and psyllium husk. Now how awesome is that? (Net Carbs = 10g)
6) Asian Garlic Beef Noodles
Loaded with Asian flavors, this Garlic Beef Noodles from Paleo Flourish with shirataki/zucchini noodles is way better than your Asian takeout meals, plus it doesn't have the nasty carbs. (Net Carbs = 5g)
7) Keto Alfredo Chicken Pasta
Keto is a diet that lends itself well to experimentation, and Cast Iron Keto has done just that. This delicious Taco Alfredo Chicken Pasta with shirataki noodles is apparently a blend of all of the author's favorite flavors and you will definitely love it too. Give it a try! (Net Carbs = 4.1g)
8) Keto Spaghetti Bolognese
This Spaghetti Bolognese is cooked with practically zero-carb "miracle" shirataki noodles made from a Japanese plant root. They're truly a phenomenon for keto followers! (Recipe from Fat For Weight Loss). (Net Carbs = 6g)
9) Keto Mushroom Pasta with Shirataki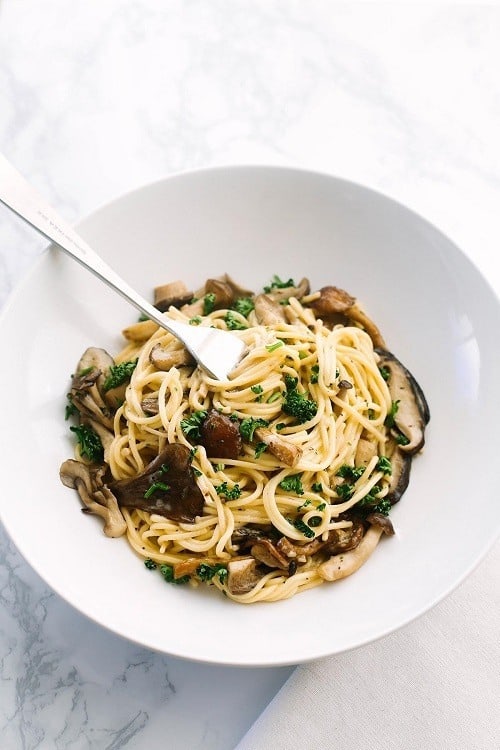 This earthy, delectable combination of assorted mushrooms and shirataki noodles from Happy Keto will be a house favorite in no time. (Net Carbs = 4g)
10) Keto Baked Spaghetti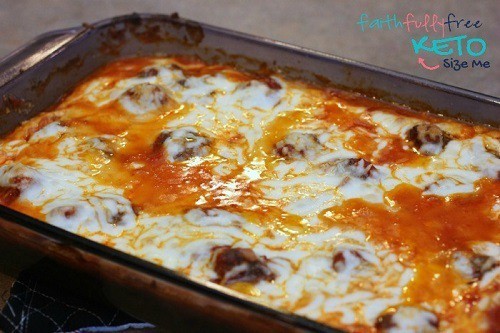 Spaghetti squash is a favorite pasta alternative and this quick Baked Spaghetti from Keto Size Me is the perfect hearty dish to indulge in after a tiring day. (Net Carbs = 7g)
11) Low-Carb Spaghetti Squash Shrimp Scampi Boats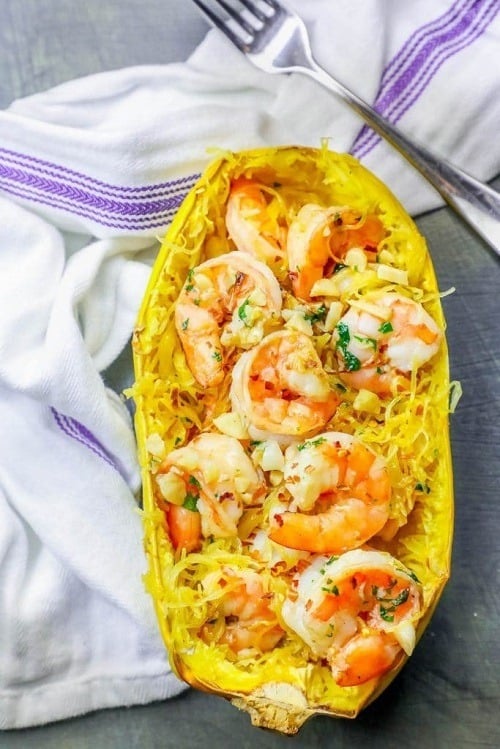 Gorgeous enough to wow guests, this Spaghetti Squash Shrimp Scampi Boats recipe from Sweet C'S Designs is a surprisingly easy recipe that will delight guests. (Net Carbs = 21g)
12) Zucchini Pasta with Lemon Garlic Shrimp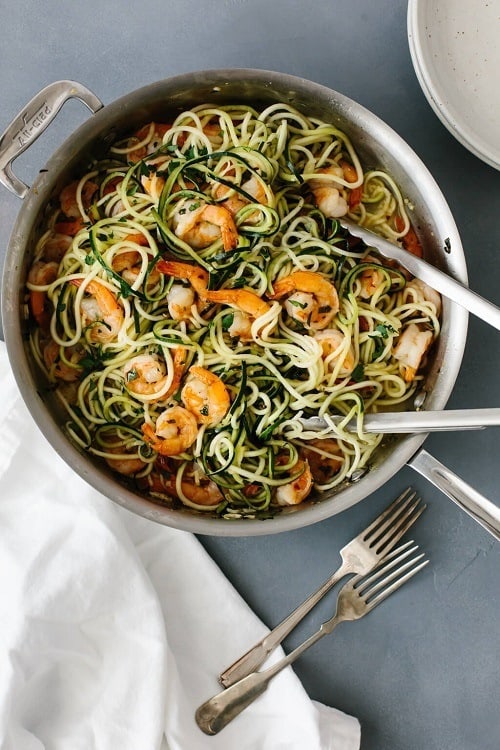 No fancy ingredients, no elbow grease! All you have to do is toss up some zucchini noodles with fresh parsley, white wine, and pepper flakes to prepare this delicacy from Downshiftology. (Net Carbs = 8.9g)
13) Low-Carb Pasta Bake with Chicken
Packed full of rich flavors, the great thing about this Pasta Bake Chicken recipe from Step Away From The Carbs is that you can modify it as per your liking with your choice of vegetables, or no veggies at all, if that's what you prefer. (Net Carbs = 11g)
14) Low-Carb Cauliflower Gnocchi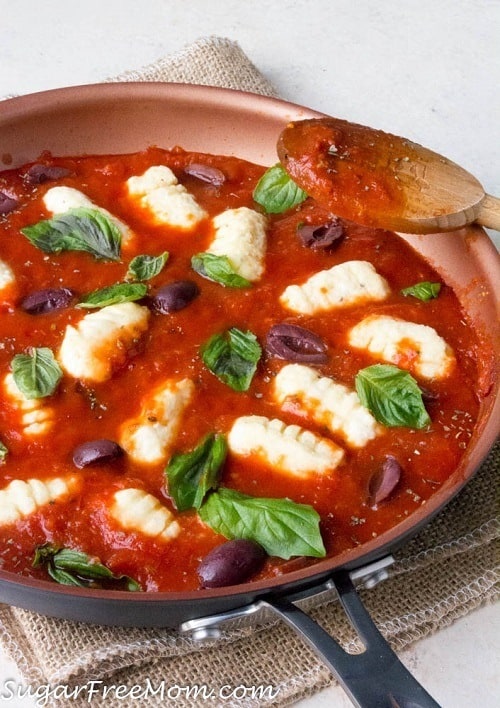 Perfect for chilly winter nights, this hearty Cauliflower Gnocchi recipe from Sugar Free Mom will keep you warm and cozy without compromising on the carb count. (Net Carbs = 4.8g)
15) Low-Carb Cucumber Pasta Salad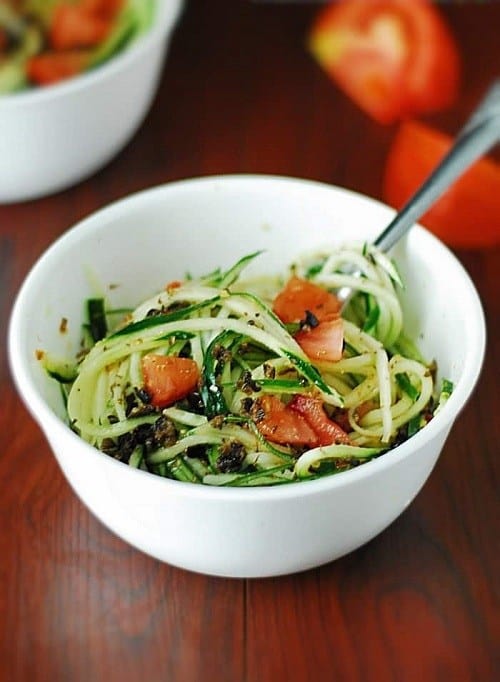 Craving a meal that's quick and healthy at the same time? Simply prep-ahead some spiraled cucumber pasta and toss it up with tomatoes, garlic, and a handful of herbs for a refreshing meal as this one from The Low Carb Diet. (Net Carbs = 6.9g)
With that, we've come to the end of our list of keto-compliant pasta recipes. We hope you enjoyed this collection. Do you have a favorite pasta-alternative recipe that we have missed? Share anything we missed in the comments!