Earthy and rich, mushrooms are a great side dish that can elevate many a meal. Thankfully, mushrooms are Whole30-compliant, so you don't need to miss out on these fantastic fungi during your program.
We've put together a list of Whole30 mushroom recipes for your eating enjoyment – take a look and let us know which are your favorites!
1) Mushroom Masala
This tasty Indian Mushroom Masala recipe from Recipes From A Pantry is all about intense flavors from a creamy sauce of cashew nuts, tomatoes, and a bunch of aromatic spices.
2) Garlic Mushroom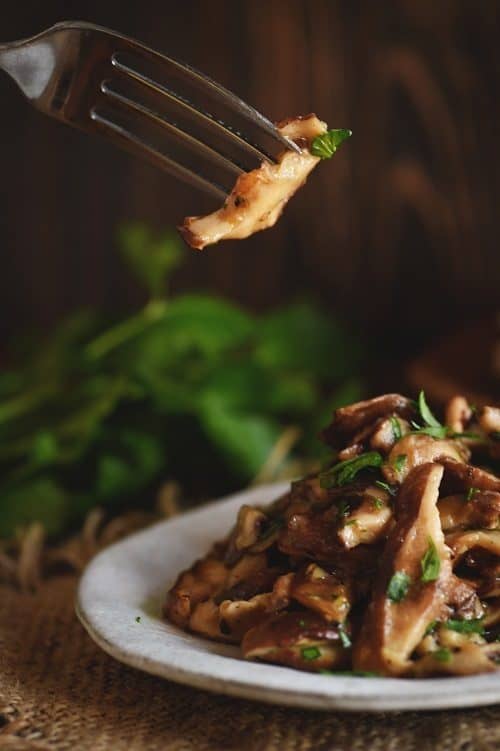 Ghee, garlic, and fresh parsley enhance the nutty flavor of this super-easy mushroom recipe from Simply So Healthy.
3) Pan-Roasted Portobello Egg Toast
Paleo Gluten Free's roasted portobello mushrooms topped with poached eggs and a few sprinkles of fresh thyme is the ultimate gastronomical delight.
4) Cream of Mushroom Paleo Casserole
This gorgeous Casserole from Paleo Gluten Free is a creamy amalgamation of cauliflower rice, mushrooms, Italian spices, and coconut milk.
5) 5-Ingredient Baked Egg Mushrooms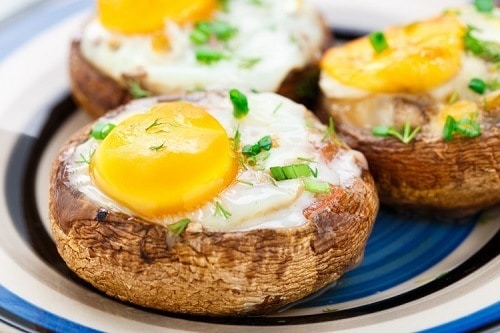 This recipe composed of sunny poached eggs decking the top of these Baked Portobello Mushrooms from Skinny Ms is a surprisingly easy 15-minute meal.
6) Cream of Mushroom Soup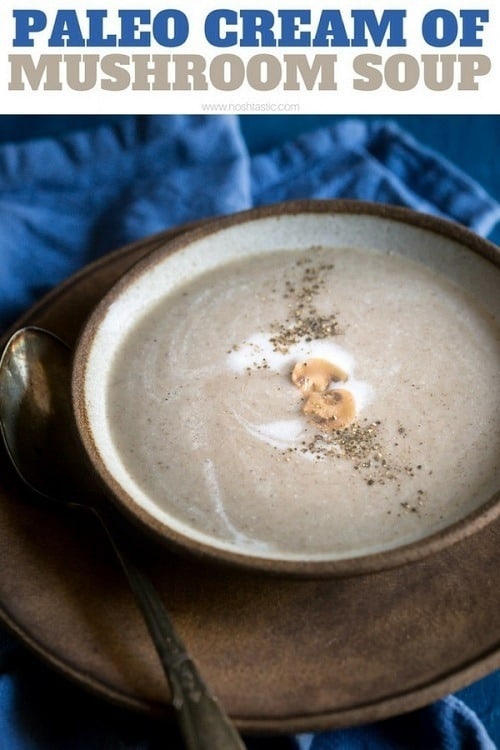 Perfect to warm up a chilly winter night, Noshtastic's Cream of Mushroom Soup is modified with coconut milk and tapioca starch for a healthy, Whole30-compatible meal.
7) Chorizo Stuffed Mushrooms
Baked Chorizo and veggie stuffed Mushrooms from The Real Food Dieticians are the perfect tit-bits to serve your guests – and they'll love these whether they are doing the Whole30 program or not!
8) Broccoli and Mushroom Stir Fry
This super-simple and quick Broccoli and Mushroom Stir Fry recipe from Skinny Ms will make your meals more exciting and deliver a great dose of veggies without requiring much added effort. You can simply replace the soy sauce with coconut aminos to make it Whole30-friendly. (and yes, rice wine vinegar is compliant).
9) Veggie Stuffed Portobello Mushrooms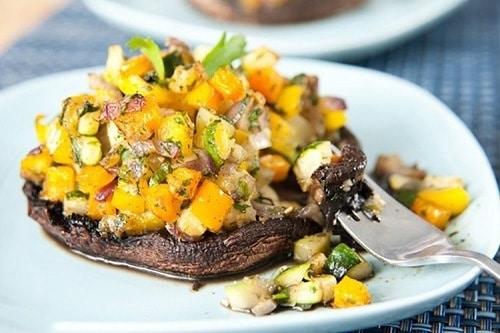 Skinny Ms's Stuffed Portobello Mushrooms loaded with sautéed veggies are a source of quick nutrition for Whole30 followers.
10) Balsamic Roasted Mushrooms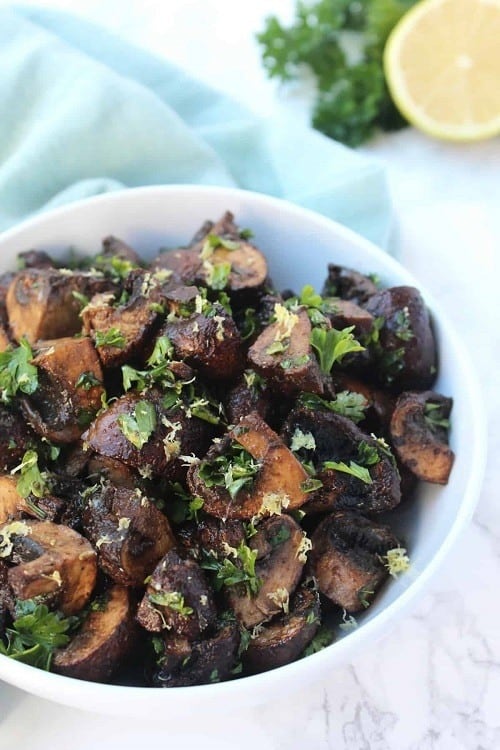 Tasty, scrumptious, and Whole30-compliant, these zesty Balsamic Roasted Mushrooms from Eat The Gains will be a perfect side dish for your lunch and dinners.
11) Roasted Turkey Breasts with Mushroom and Brussels Sprouts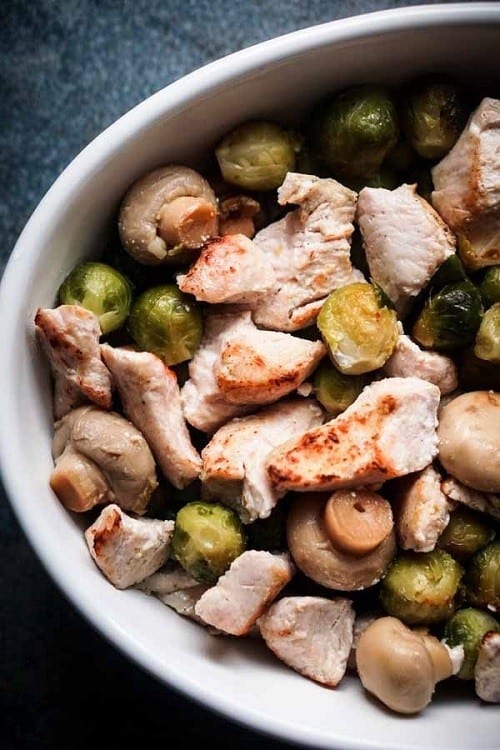 This delicious combination of baked turkey breasts, Brussels sprouts, and mushrooms from Ketogasm will soon be your go-to meals for busy weekdays.
12) Balsamic Chicken with Mushroom and Thyme
The Slender Kitchen author uses lots of herbs in this Balsamic glazed chicken and mushroom recipe. She insists that you try a combination of your favorite herbs and veggies to make this dish more personalized.
13) Chard and Chard Stems with Sautéed Shiitakes
Mushrooms and chard stems make a heavenly combination. This recipe from Bon Appétit is a simple sauté with garlic, kosher salt, and fresh ground black pepper.
14) Smoked Sausage Frittata with Spinach and Mushroom
A one-pan preparation of smoked sausage, mushrooms, and spinach, this Frittata recipe from Ketogasm is a great option for beginners of Whole30 program.
15) Harissa Portobello Mushroom Tacos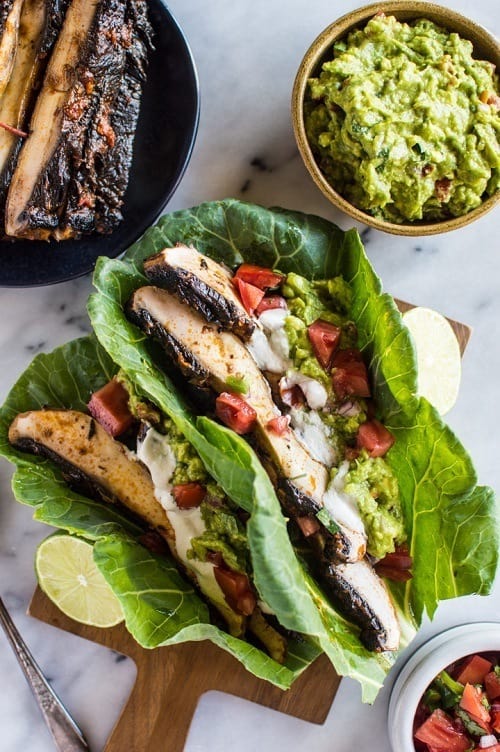 Collard greens save the day here by replacing carb-loaded taco shells in this recipe from Healthy Nibbles And Bits. Plus, the spicy harrisa and herb-tossed mushroom filling takes this recipe to a new level of appetizing delight.
16) Sautéed Green Beans and Mushrooms
Skinny Ms's tangy sauté of fresh green beans, crimini mushrooms, onions, and carrots with a splash of fresh lemon juice is an easy whip-up recipe that will keep your Whole30 meals well within the budget.
That concludes our mega list of Whole30-compliant mushroom recipes. Have a favorite fungi recipe we missed in our research? Share your most marvelous Whole30 mushroom recipes in the comments!