Gluten-free and low carb, almond flour is often used as a popular alternative to whole-wheat flour and performs incredibly well in a variety of recipes. Best of all, it's allowed on Whole30!
You can stay Whole30 complaint and enjoy all your favorite appetizers, savory main courses, and crusted meats with this wonderful wonder-flour!  Try our these Whole30-friendly recipes using almond flour and see for yourself!
1) Mini Almond Flour Chocolate Cakes
Look at that chocolaty, gooey goodness! Prepared with almond flour, the Snappy Gourmet has created this yummy, Whole30-compatible decadent delight! Note – this dish is definitely a SWYPO, so don't indulge unless you're past your initial 30 days!
2) Almond Flour Bread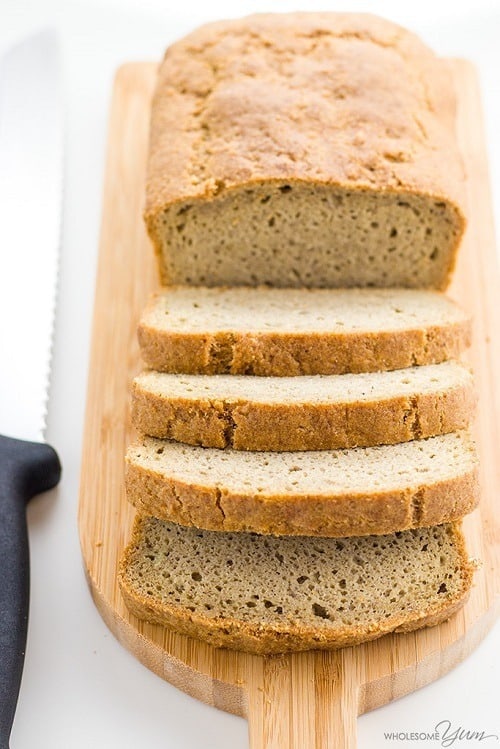 Wholesome Yum shows us how to bake a moist and soft Whole30 almond flour bread.  You'll only need six ingredients: almond flour, psyllium husk powder, gluten-free baking powder, sea-salt, eggs, and coconut oil to make this lovely loaf (as with the dessert above, imitation bread also falls under the SWYPO category, so don't make this if you're in your first 30 days)!
3) 4-Ingredient Tuna and Avocado Cakes
You can use almond flour to shape tuna avocado cakes, as demonstrated by Rachl Mansfield. They will turn out perfect every time and work well as a hearty and tasty meal!
4) Apple Crisp
A crispy and creamy combo is created when almond flour and caramelized apples unite in these decadent Apple Crisps from My Natural Family. What a wonderful Whole30 treat! (SWYPO warning)
5) Five-Spice Chicken Tenders with Sweet and Spicy Dipping Sauce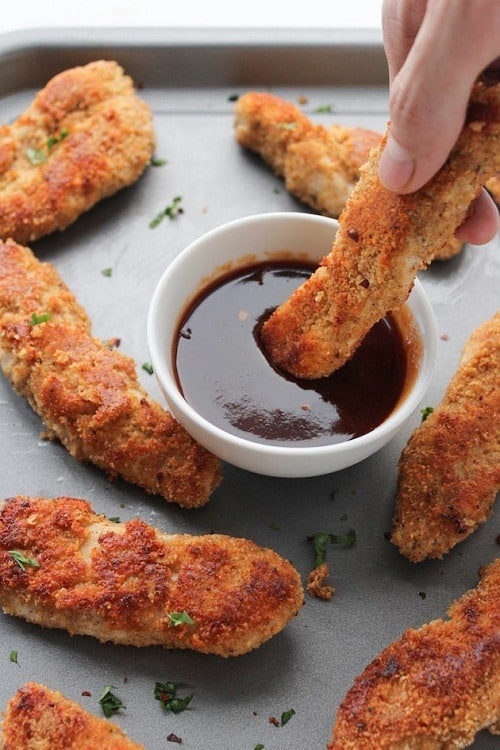 These party tidbits, coated with almond flour, are super crunchy outside and juicy inside.  You'll know they are Whole30 compliant but your kids won't even know!  (Recipe from A Saucy Kitchen)
6) Berry Cherry Cobbler
Everyone will love digging into this saucy Berry Cherry Cobbler from Healthy Aperture.Topped with an almond flour crust, it has a crispy, crumbly texture.  This recipe calls for a frozen berry and cherry blend that you can keep on hand to make whenever you desire! (SWYPO warning)
7) Almond Flour Fish Nuggets
Crunchy Almond-Flour Fish Nuggets from Healthy Recipes Blogs will amaze you as a low-carb, Whole30 compliant fried- fish option. The tasty almond-flour crust will not disappoint!
8) Garlic Herb Almond Flour Crackers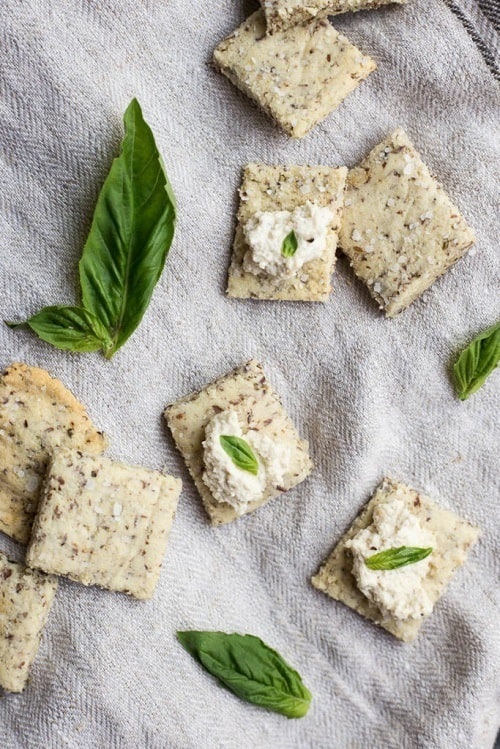 Fooduzzi's Garlic Herb Almond Flour Crackers can be served alone or topped with a number of dips and spreads.  Make a big batch and keep them stored in an air-tight container to keep on-hand. (SWYPO warning)
9) Cauliflower Fritters
Almond flour adds to the crunchiness of these party pleasers from Sweet As Honey.  Grated cauliflower, eggs, almond flour, cilantro, garlic salt, chili flakes, and oil for frying are needed to create these tasty cakes.
10) Hamburger Buns
These Whole30-friendly Hamburger Buns from My Natural Family are just as soft and fluffy as the traditional ones but keep you guilt-free! (SWYPO warning)
11) Grain-free Waffles with Homemade Strawberry Chia Compote
With some almond flour, you can enjoy waffles once again and still remain Whole30 compliant, thanks to this genius recipe from Fit Foodie Finds.  Top these with a strawberry chia compote (recipe also included) for a beautiful breakfast. (SWYPO warning)
12) Almond Flour Blueberry Muffins
Enjoy these childhood favorites the Whole30 way with this recipe from Health Damy. Easy to prepare with ingredients including almond flour, eggs, agave, baking soda, apple cider vinegar, vanilla extract, coconut oil, and fresh blueberries. (SWYPO warning)
13) Cranberry Lemon Bites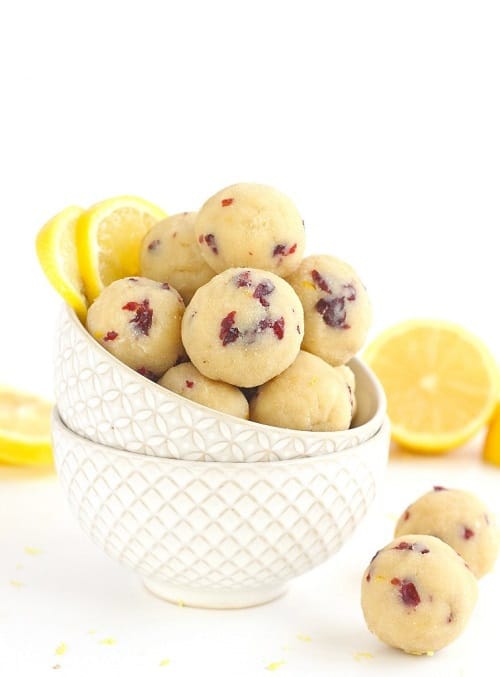 Chunks of cranberry add to the tangy goodness of these mouth-watering Lemon Bites from Katalyst Health Blog.  Almond flour steps in to create another Whole30 ingredient-compliant muffin. (SWYPO warning)
14) Cajun Oven-Baked Pickles
Pickle-lovers rejoice! Coated in almond flour, these cajun-spiced savory treats from Paleo Hacks are terrific as evening snacks or appetizers.  Eggs, almond flour, and spices create a zesty flavor to jazz up your dill pickles.
15) Almond-Crusted Salmon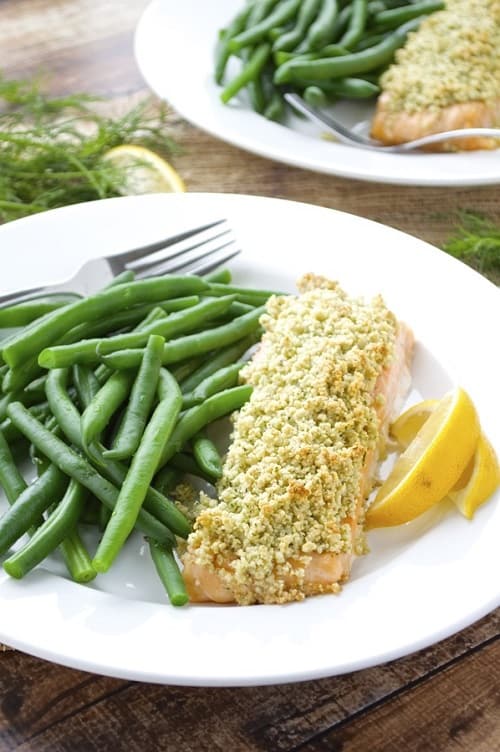 Dill and garlic add subtle flavors to this Almond-Crusted Salmon from Fashionable Foods.  This beautiful main course will work as a family meal or a dinner party winner!
That brings us to the end of our 15 Whole30 almond flour recipes. Let us know which is your top pick from the list. In the comments below, share any favorite almond flour recipe we may have missed.