Note: We have a partnership where you can get 10% off your Tushy bidet when you use code LIFEHEALTH!
We've talked about the wonders of bidets in the past, and how Americans need to get on board with better bum maintenance.
Every trip abroad I find myself wondering – why are we so apprehensive about bidets in the US? Is it simply our prudish puritanical roots that make us anxious about openly discussing our bowl movements? Perhaps having a physical toilet attachment that reminds Americans that they do indeed poop is just too much to handle?
I decided I had to a potty pioneer, so when Tushy asked me to review their bidet attachment, I gladly accepted.
Before I even opened my Tushy package, I fell in love with the company's marketing. The packaging has a very fun, light-hearted tone that I really appreciate. After all, we're talking about butts here. And let's be real, butts are always kind of hilarious.
I was a bit nervous about attaching the bidet myself (I even waited until Monday to ensure an apartment maintenance person was on staff just in case I had issues – I imagined water spurting everywhere and flooding my bathroom).
I had nothing to worry about though – it was a cinch! I think the entire process took about 20 minutes, and that was with my constantly stopping to photograph and video record my progress.
No pipe issues, no leakage. The instructions were simple and easy to follow. You definitely do not need to be handy to set up your bidet!
I did a little video showing my installation process, give it a watch if you want to see how it all goes down:
About the Tushy Bidet
Tushy was founded in 2015, and the company considers themselves "a team of toilet crusaders, fighting for clean bums and reduced global wastefulness."
While Tushy isn't the only bidet company out there, they are one of the more affordable and popular ones, with stylish bidet attachments under $100.
Outside of Tushy, the only other bidet-specializing company I've regularly head of is the Japanese brand Toto, and their bidets can easily jump into $1k and above with fancy features like air dryers, seat warmers, warm water, user preference memory settings, and even electrolyzed water etc.
Definitely cool… but probably a lot more than most bidet newbies need.
Tushy keeps things pretty simple – you can choose the Tushy Classic (which I have) or the Tushy Spa. The Tushy Spa is about $30 more and includes a hookup for warm water, if that's something you feel you cannot live without.
It's worth noting if you choose the Tushy Spa, you do need to make sure you toilet is next to your sink, as you'll need access to your sink's warm water line to get the toasty water flowing to your bidet.
I personally have found the non-temperature controlled unit (aka, cold water only) to be perfect. Some people are aghast at the idea of cold water shooting up their bum, but it's really not shocking. In fact, it's quite refreshing!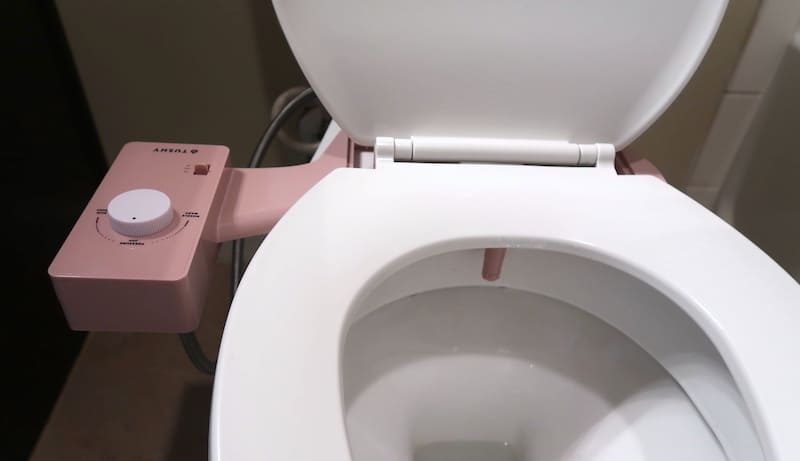 Tushy also lets you choose between six different colors, letting you customize your bathroom's bidet to a color scheme that fits your personality or existing decor.
Other major Tushy features include:
Angle control. I love how Tushy includes an angle control on their bidet – this isn't something I've seen included with most other budget bidets. It allows you to make sure that water is shooting at just the right angle.
Pressure control. The adjustable pressure knob lets you pick how much power to pack. I've never dialed it past the halfway mark before. Do so at your own risk…
No electricity or plumbing needed. Many other bidets that have fancier features like seat warmers and air dryers require an electricity attachment, but Tushy keeps things simple and un-complicated.
Self-cleaning nozzle. The Tushy has a self-cleaning option where water washes over its own nozzle, making it easier to keep everything clean and sanitary.
It's also important to know that Tushy is actually doing some epic work on a global scale. A portion of Tushy profits goes towards building community toilets in India, helping the health and hygiene of poorer communities.
Open defecation is dangerous in developing countries for a number of reasons. Not only do people regularly die as a result of poor sanitation practices, but women are also at risk of assault and rape as well when they are forced to relieve themselves in the fields, where there is no monitoring or protection.
And of course, using a bidet is a great benefit to the environment since it allows for less toilet paper usage.
Tushy Bidet Review: A Few Weeks In
I've had the Tushy bidet in my bathroom for a few weeks now, and I've really grow to love it.
I've found myself using a ton less toilet paper, and I really enjoy the clean, fresh feeling it gives me. I find myself using it even when I haven't done a #2 because it just makes me feel so much fresher!
This is especially handy when navigating those sticky summer days when you may fall victim to swamp butt.
I also had the chance to try out the Tushy bamboo toilet paper and butt handclothes, which you can purchase in addition to the bidet itself.
The toilet paper is cool – not sure I'm a total bamboo convert, as it's a bit on the rougher side, but since I'm using less TP in general it's nice to have a more eco-friendly option for my occasional needs.
I'm not totally on board with the little handclothes quite yet, although I do think they're a nice idea for those who want to go cold turkey without toilet paper.
The Tushy bidet is incredibly easy to install and one of the more affordable bidets on the market. I'm hoping Tushy might be the company to push Americans towards cleaner booty habits!
I for one recommend the Tushy 100%! If you're on the fence, definitely give Tushy a try, I think you'll find that bidets are undoubtedly the path to a better butt!
Want to try your own Tushy? Use this link with code LIFEHEALTH for 10% off your bidet – wahoo!