Pork preparation can be a bit of a hassle, requiring all day cooking for desired tenderness.  But have no fear, instant pot cooking is here! Continually growing in popularity, instant pots are a great option for cooking both simple and fancy pork dishes without requiring all day dedication to the stove.
Check out these 16 recipes and see just how easy it is to make these popular pork favorites when using an instant pot!
1) Puerto Rican Instant Pot Pulled Pork
Cook tender Puerto Rican Pulled Pork in no time at all with this recipe from A Saucy Kitchen.
2) Instant Pot Mexican Pork Carnitas

These Mexican Pork Carnitas from Skinny Tastes boast 5-star reviews for their great flavor and texture!
3) Pressure Cooker Ginger Pork Shogayaki
Amy+Jacky's Ginger Pork Shogayaki cooked in a sweet and spicy ginger-garlic sauce is super-delicious and satisfying.
4) Instant Pot Honey Soy Pork Tenderloin
Serve this sweet saucy Pork Tenderloin from Homemade For Elle over rice or noodles for a filling meal.
5) Instant Pot Pork Chili Verde
This no-hassle Instant Pot Pork Chili Verde recipe from Two Sleevers works as a complete, hearty meal.
6) Instant Pot Pork Kalua
Enjoy the flavors of the Hawaiian islands with CookingwithCurls' Kalua Pork recipe. Only 10 minutes of prep and then the instant-pot works its magic!
7) Sweet Balsamic Glazed Pork Loin
This intensely-flavored Balsamic Glazed Pork Loin from Mel's Kitchen will be an instant pot-instant hit in your house!
8) Pressure Cooker Shumai (Shrimp & Pork Dumplings)
Dine the Asian way with these Shumai Dumplings from Amy and Jacky Pressure Cooker Recipes. Bonus: prepare the dumplings and serve immediately OR freeze for 2-3 months.
9) Barbecue Pork Tacos with Honey Mustard Slaw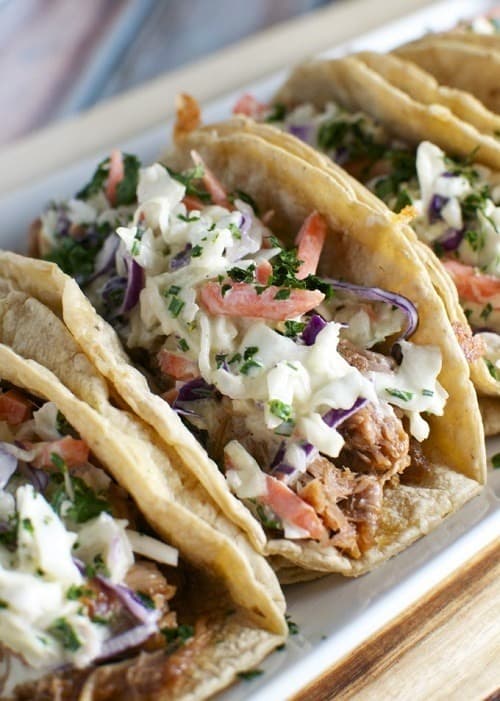 The honey mustard slaw enhances the rich flavor of these slow-cooked Barbecue Pork Tacos from Stuck On Sweet.
10) Instant Pot Pork and Green Chile Tamales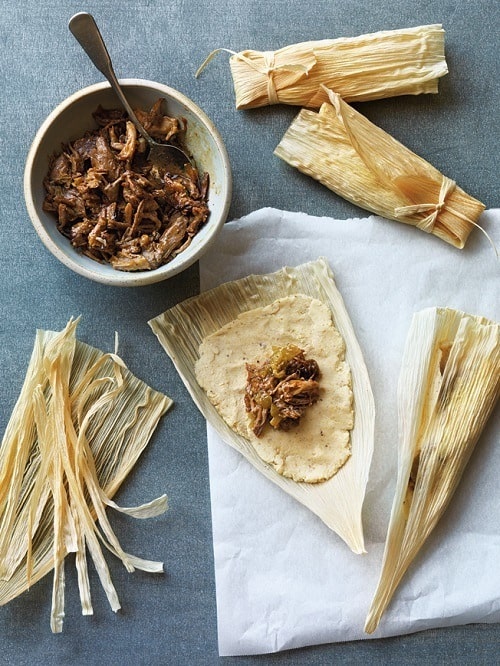 Williams Sonoma's Pork and Green Chile Tamales allows for simplified cooking using one instant pot first to cook your meat, and then to steam your tamales.
11) Instant Pot Boneless Pork Chops
Recipe Teacher's Smokey Boneless Pork Chops are perfect for a quick and satisfying weeknight meal.
12) Instant Pot Hawaiian Pineapple Pork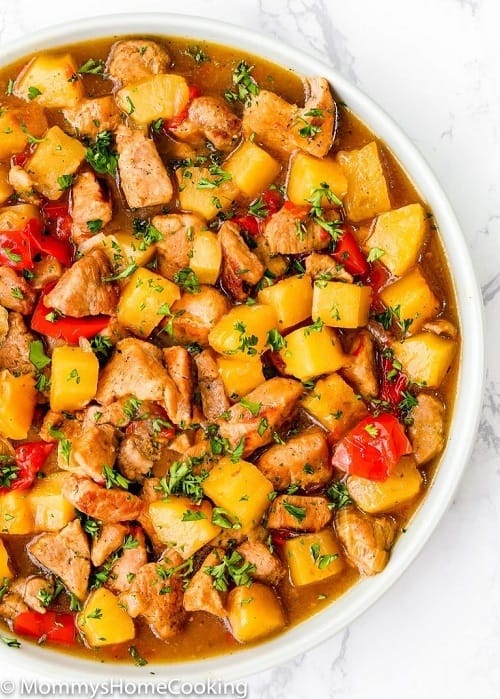 Up for a tropical twist? With this Hawaiian Pineapple Pork recipe from Mommy's Home Cooking, your dinner will burst with flavor and will be ready to serve in less than 30 minutes.
13) Instant Pot Bacon Wrapped Balsamic Pork
Old House To New Home's crispy Bacon-wrapped Pork Tenderloin is a savory treat for pork lovers!
14) Instant Pot Baby Back Pork Ribs
This Instant Pot Baby Back Pork Ribs recipe from I Wash You Dry is so simple and quick, you'll never go back to cooking pork ribs the traditional way.
15) Instant Pot Pork Shoulder Steaks with Mushrooms, Potatoes, and Gravy
Juicy pork steaks simmered in creamy mushroom gravy create a cozy comfort meal (Recipe from 365 Days Of Slow Cooking).
16) Instant Pot Cafe Rio Pork
Pork cooked in enchilada sauce, brown sugar, and a handful of spices creates a delicious instant pot meal in just 40 minutes. (Sourced from Your Home Based Mom)
That ends the list of these instant pot pork recipes. Let us know which one is your top pick and add your favorite pork instant pot recipe if you have another one to share!