Summertime means that we'll all be out and about much more often with more summer sunshine. There are plenty of reasons to love the sun, but sun damage isn't one of them!
Protect you face with a stylish sun hat for the summer. In this article, we're looking specifically at the best foldable, packable sun hats that can be easily packed for travel. This allows you to bring your sun hat everywhere you go, ensuring that you're never in the sun's line of fire!
What to Look For In A Travel Sun Hat
There are a few elements you'll want to consider when selecting the best sun hat for your needs.
Design & Coverage. Consider how much coverage you need. A wider hat brim will cover more of your face and even part of your neck area from the sun. Some hats also have capes or back covering to protect the back of your neck as well.
Adjustable. Many sun hats are adjustable, allowing you to tighten a cord that can make the hat more fitting or looser depending on your head shape and size.
Packability. For those who want a packable sun hat that can be taken anywhere, packability and foldability will be important. Some hats have hard brims that cannot be folded easily, while other hats are made of soft, flexible that can be bent, allowing users to carry their hat in their purse, carry-on, or in some cases, even in a pocket! For this post, we try to only cover crushable sun hats that can be folded to at least some degree.
UPF Rating. It's also good to pay attention to a hat's UPF rating – the UPF rating explains how much sun can be blocked with the hat and the amount of UV rays that can be held at bay, protecting your skin.
The Siggi Women's Summer Flap Sun Hat is a nice, stylish sun hat that can be worn in a variety of settings.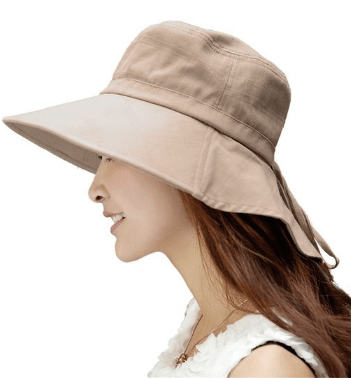 Our Rating: 4.5/5
Several color choices. Come in a variety of colors including khaki, beige, black, navy, orange, and more.
UPF 50+. Earns a UPF 50+ rating, meaning that it blocks 97.5% or more of sun UV rays.
Adjustable size. Features adjustable strap on the crown, allowing the hat to fit a variety of head sizes.
Chin cord. Hat's chin cord keeps the hat on your head to prevent it flying off in the wind.
Light and Ventilated. Light cotton material keeps head ventilated and cool in the summer.
PROS: Customers like the lightweight feel and find the style attractive.
CONS: The colors pictures are not always entirely true to the actual product (for example, one buyer notes that the accent colors that appear pink in product photo look more orange in real life). While hat can be laid flat for packing, customers don't recommend folding the rim, as that may form a permanent crease.
The Bienvenu Beach Sun & Swimming Hat is ideal for those who want the most skin coverage, featuring a large 5 inch brim and a neck cape for total neck, ear, and face coverage.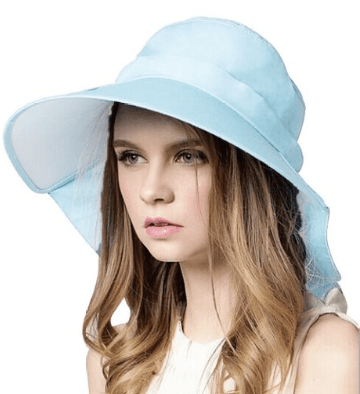 Our Rating: 4/5
Several Colors. Comes in 5 colors: beige, light blue, dark blue, navy, pink.
Removable & Adjustable Chin Lanyard. Chin strap can be adjusted so the hat stays on your head, or can even be removed if you don't like the chin strap look.
Ponytail-friendly design. Comes with a discreet opening for ponytails.
Sweat Absorbent + Breathable. Provides 360 degrees of sun coverage.
Wide Brim Coverage. Features a 5 inch wide brim and neck cape for great sun protection.
PROS: Provides extreme coverage, with great neck covering and large brim to shade entire face.
CONS: Some note that the design is not very attractive, although it's very functional. It also seems that the neck cape can easily acquire wrinkles and lines when folded for packing.
The Siggi Bucket Hat is a fashionable, super foldable hat that's great for traveling. It even has a cute bow on the side!
Our Rating: 4/5
Wide Brim. Brim measures 4 to 4.5 inches, providing plenty of coverage to protect your face.
UPF 50 Rating. Earns a UPF 50+ rating, meaning that it blocks 98% or more of sun UV rays.
Adjustable Chin Cord. Chin cord can be altered and resized depending in your needs.
Super Foldable. Easy to fold and pack for on the go.
PROS: Customers love that this hat can fold so small that it can even be put in one's purse (and without looking wrinkled or retaining a fold line). The brim can also be adjusted and formed to your personal preference


CONS: One customers notes that the plastic clips that connect the neck tie with the hat can sometimes pinch your hair if you aren't careful, although it's not an issue most of the time.
This Floppy Foldable Straw Summer Hat from Siggi is a fashionable, light straw hat that's great for sun protection and travel.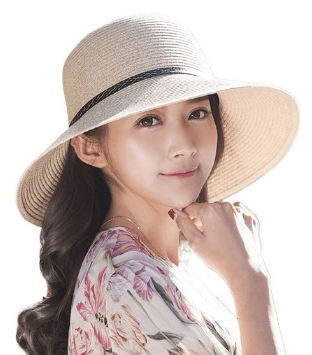 Our Rating: 4/5
Made of Straw. While other foldable sun hats are largely made of cotton, this one is made from light straw.
Super foldable. This hat's soft straw fabric makes it ultra foldable and packable for travel.
Detachable Chin Strap. Chin strap can be adjusted for the perfect fit, or simply removed depending on preference.
Any size. Inner adjustable band inside the sweatband makes this hat customizable for your head size.
PROS: Customers note that this foldable sun hat can even be rolled for packing.
CONS: While can be stored in a suitcase, this hat is probably not compactable or crushable enough to be taken in a purse or other small carry-on bag.
The Columbia Sportswear Bora Bora Booney hat is an ultra lightweight sun hat that's adjustable and dries quick.
Our Rating: 4.5/5
Comes in several colors. Available in 7 colors, from beige to blue.
UPF 50 rating. The UPF 50 rating means that this hat blocks out 98% of UVA and UVB rays.
Skin Caner Foundation's Recommendation. Has earned a seal of approval from the Skin Cancer Foundation.
Omni-Wick Sweatband. Features trademarked Omni-Wick sweatband, which used a mesh vent panel to keep your head cool and sweat-free.
Quick-dry. This hat has quick-dry properties, meaning that if it gets wet, it will dry quickly.
Adjustable size. Features an adjustable drawcord toggle to change depending on your head's size, plus an adjustable chinstrap.
PROS: Super soft and packable sun hat. Customers love how lightweight it is, noting that the hat can be even rolled up and put in your pocket.
CONS: One customers notes that the flexibility and softness means that the hat looses its shape in the wind, which can negatively affect sun coverage.
What are your top picks for the best foldable sun hats? Share your favorites in the comments!