Are you burdened by your bunion? Don't let toe pain stop you from living your life!
Today we're digging into the benefits of bunion splints, what to consider when purchasing a bunion corrector, and reviewing some of the top natural bunion relief options.
What Are Bunions & Why Do They Happen?
Bunions are bony bumps that arise from the base of your big toe, where the big toe attaches to your foot.
Usually this happens as a result of your big toe leaning in towards the other toes, which in turn pushes the base of the big toe outwards, resulting in a bunion.
Bunions often first appear in early adulthood, and get worse with age. Many times, bunions can run in your family. They're also significantly more common in women due to years of wearing high-heels, which push toes in un-natural positions that can result in bunions.
Bunions can be quite painful, due to the friction against bone and the pressure put on the joint where the bunion sits.
What Does A Bunion Splint Do?
Bunion splints can provide a few different points of relief and correction. Splints can:
Correct Toe Deformity.  Bunion splints will help push or pull your big toe into proper alignment. This should help resolve some of the stiffness and pain that can develop in your foot joints as a result of your toe's poor positioning.
Add Padding Over Bunion. The vast majority of bunion splints also provide a padding or cushion that can be positioned over your bunion. This prevents the raised surface of the bunion from brushing against your shoe, stopping calluses.
Things to Consider When Choosing a Bunion Splint
Day or Night Use? Some bunion splints are designed to be worn while you sleep, while others are for use during the day. Certain versions can fit under socks and can be worn during sporting activities and exercise.
Hard or Soft. Bunion splints can also vary in thickness. Some splits are very rigid and firm, while others are soft and bendable. Some splints are designed to push your big toe back into the right position, while others are designed to pull your toe.
Comfort. Most importantly, you'll need a bunion splint that is comfortable, as you'll be wearing it a lot!
Must Be Worn To Get Benefits. Once you remove the bunion splint, the beneficial effects go away. The only way to actually cure a bunion is to get surgery – bunion splints and other natural bunion treatments can prevent further damage, alleviate pain and joint issues, but will not be able to permanetly correct your foot.
It's important to manage your expectations appropriately when it comes to bunion splits.
While splints can certainly prevent a bunion from getting worse and provide some relief, splints won't usually be able to reverse an existing bunion issues.
The BunionPal Kit from Dr. JK is a set of bunion relief tools, for various needs and activities. The items are made from soft, medical-grade gel for comfort and relief.
The kit contains a variety of toe separators and bunion pads, some designed specifically for wearing at night while sleeping, while others are for wearing during the day.
What's also handy is that the BunionPal Kit provides instructions for how different bunion pads and toe separators should be used, such as hiking or sports.
The 5 items include:
Large Bunion Sleeve. The largest pad included is more of a sleeve – it covers the top and bottom of the foot and separates the big toe while also providing padding for under the balls of your feet. It's designed specifically for sports or hiking.
Bunion Pad & Separator. The next item provided is a gel separator that fits between your big toe and the next toe beside it. It also features a gel pad that covers your protruding bunion, alleviating friction. This is great for wearing with slip-on shoes.
Smaller Toe Separator. This toe separator measures 2″ x 3/4″ and is designed to separate two toes that cross over one another or are too close together. It can be worn barefoot or with shoes.
Single Toe Separator. This toe separator is 1″ x 1″ and actually wraps around an entire toe. This separator provides extra cushioning under the toe, with a slight lift. This toe separator is made for flip flops or sandals.
Single Toe Separator w/ Top and Bottom Padding. The last toe separator provides padding on the top and bottom of your toe. This bunion night splint can be worn under socks and is specifically designed for night time use.
PROS: Bunion-sufferers love the variety in this pack, as there is truly a pad or toe separator for any need! Buyers also find these items very comfortable and love the gel material. The pack is also quite affordable – you can pay the same price for just one of these toe separator elsewhere!
One happy buyer notes that this kit helped her walk all over Europe during her travels without foot pain.
CONS: Some note that the customer service is very poor – if you have issues with the bunion pads or separators, don't expect a response or help!
This Big Toe Bunion Splint from Uarter is an adjustable splint with a toe stabilizer and toe wrap.
The splint is designed to pull your misaligned toe straight against the firm (but cushioned) aluminum bar inside of the splint.
It is made with breathable, comfortable fabric. It uses velcro straps, making it an easy splint to take on or off.
PROS: Buyers note that they can definitely feel the splint pulling their big toe back into alignment, and love how comfortable the splint is.
CONS: Depending on the shoes you wear, this cushioned bunion splint may be too bulky to fit comfortable under shoe outerwear.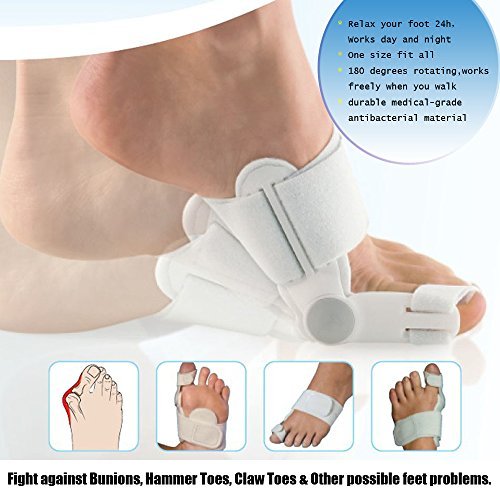 This Bunion Corrector Splint from Aokey features a 180 degree rotation, allowing it to move with your foot as you walk.
The splint is designed for day or night-time use, and is made of durable, medical-grade antibacterial foam.
In addition to pulling your big toe back into alignment, it also uses a cushioning foam to protect your existing bunion.
It's worth noting that this bunion splint is fairly large, and while it can be worn barefoot, it's hard to imagine it fitting with any kind of footwear.
PROS: Comfortable and sturdy, good for walking around the house.
CONS: Very bulky – definitely can't be worn with shoes!
Have you ever used any of these bunion relief splints? Share your experience in the comment and tell us what you think!